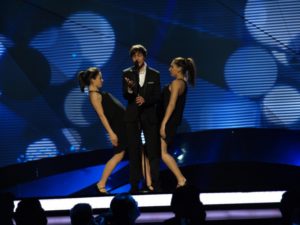 Over the past few years, the Belgian selections have been rather small and uninteresting but that is about to change according to the Flemish broadcaster that have just announced their plans for the 2014 selection process of the Eurovision Song Contest. Will this increase the Belgian odds?
In 2013, Roberto Bellarosa, winner of The Voice of Belgium, was chosen by the francophone broadcaster RTBF to represent his country at the Eurovision Song Contest with Love Kills. He made it into the final and finished at the 12th place. Now it seems that the Flemish broadcaster is ready to improve the outcome and they have announced that the national selection process to find the artist who will represent Belgium at the 2014 Eurovision Song Contest to be held in Denmark will be a big show.
After a few years of internal selections, the Flemish broadcaster is eager to bring new and fresh formula for the national selection and, according to VRT/Eén, the revamped Eurosong is open to everybody and will allow "anyone who ever dreamed of performing on the biggest stage in Europe to give it a try". It is not necessary, as it was at the previous editions of Eurosong, to sing an original song. The candidates, who can enter the selection individually or as a group, just have to record a video of themselves performing their own version of a Eurovision song with a bit of creativity, in a different style than the way it was originally performed, and send it to the broadcaster. There are no limitations on the song selection so the choice is entirely free and the candidates can pick any of the more than a thousand songs that have been performed in the last fifty-eight years. The deadline to enter is the 7th of October.
In addition to a call for artists, the broadcaster is looking for composers and songwriters, not only Belgians but from all across the world, interested in submit their songs for the competition.
No less than Loreen, who won the Eurovision Song Contest with Euphoria, encourages all those who wish to participate in this great experience to represent their country as she did for Sweden in 2012. You can watch the video below.
You might also want to read: