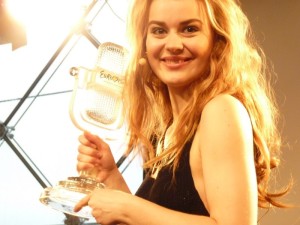 The Danish broadcaster have today opened for submission of entries for the 2014 national selection. Winning this year's contest has not lowered their ambitions as they are now looking for the entry that can win on homefield in May next year. If you have that song the deadline is 7th of October. 
The past many year's the Danish broadcaster have gone in to the Eurovision Song Contest with one goal only; to win! This year they managed as Emmelie de Forest stole the entire spotlight with the song Only Teardrops. That has however not lowered their ambitions as now all focus is set on finding the song that can win on homefield. Entertainment editor in DR, Rasmus Ladefoged says: "Last time Denmark hosted the Eurovision Song Contest we came second with Rollo & King. If we can just do a little bit better this time, then I am satisfied".
If you think you have the song that can win the Eurovision Song Contest for Denmark your deadline is 7th of October. The entire set of rules can be found, in both Danish and English, on DR's website, but worth paying attention to is that DR writes the following about prior publication:
"The compositions chosen for the competition (music, text, demo recording) with a maximum duration of 3 minutes should generally not in any way have been performed in public, officially published on any media, or sold without explicit consent from DR. This includes but is not limited to radio, TV, the Internet (eg. YouTube etc.). DR must be informed immediately if the composition has been published earlier on eg. SoundCloud and it is up to DR to decide if the composition can join the competition".  
Dansk Melodi Grand Prix was in 2012 hit by a scandal as a selected entry had to be disqualified few days before the final as it has been publically available already in the summer. Back then the songwriters and the artist claimed that they had misunderstood the rules as they thought that online publication didn't count. This year a similar situation appeared as one of the songs, after the Danish final, was found to have been available online, in a slightly different version, since 2011. 
It is also worth noticing that foreign songwriters once again are welcome, but that "either the composer, song writer – or the performing artist must be Danish citizens or must have corresponding, strong relations to Denmark. (Residence in Denmark for a considerable number of years, marriage to or cohabitation with a Dane, etc.). Danes resident in the Faroe Islands who are recorded in the population register there may also participate. In case of any doubt, a final decision about any participation will be made by DR".  
For the 2013 Danish final DR received 692 songs, a number that will probably increase a bit now that Denmark will be hosting the Eurovision Song Contest. The Danish broadcaster will select 6 or 7 songs from the public submission and another 3 or 4 will be invited to participate on a so-called wildcard.
It is not yet know when and where the Danish final will be held in 2014, but the date is usually between mid January and early February. It is very likely that Odense will be hosting it as they openly spoke out about their wish to do so, and with Jutland hosting it the past two years, it is not likely that they will get it again in 2014. 
You might also like to read: 
Links