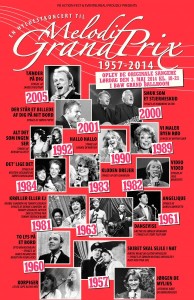 While it is still being discussed where the 2014 Eurovision Song Contest should be held, it is now clear that one of the possible arenas will host a big tribute party to the contest. Lots of former Danish participants will sing their Eurovision entries. 
The party called "En Hyldestkoncert (Tribute concert) til Melodi Grand Prix 1957 – 2014" will take place on Saturday the 3rd of May 2014, meaning half way between the two Eurovision weeks next year – and exactly one week before the grand final. To add to the speculations it is being hosted in the B & W ballroom, which is a part of the arena in play to host the contest itself.
Some might notice the very high ticket price at 998 dkk, but it has to be mentioned that this includes welcome drink, a stylish dinner buffet at decorated tables, dessert and free bar. A special Grand Prix cake has also been made by Copenhagen's famous and expensive conditor Confitori La Glace. Transport after the party to the town hall square is free with shuttlebusses. From the way it is presented a very stylish concert should be guaranteed.
You will get to see the following songs performed:
1957: Skibet Skal Sejle I Nat – performed by Michael Winckler, son of the original singer Gustav Winckler, in a duet with Tina Siel
1960: To Lys På Et Bord – performed by James Rasmussen known from the band Four Jacks, which the original singer Otto Brandenburger was a part of
1961: Angelique – performed by the original singer Dario Campeotto

1963: Dansevise – performed by a big choir
1981: Krøller Eller Ej – performed by the original singer Debbie Cameron in duet with Erik Sletting, cousin to the other original singer Tommy Seebach 
1982: Video Video – performed by Jens Brixtofte, the original lead singer
1983: Kloden Drejer – performed by the original singer Gry Johansen 
1984: Det' Lige Det – performed by Kirsten & Søren, the original singers who also represented Denmark in 1985 and 1988
1989: Vi Maler Byen Rød – performed by the original singer Birthe Kjær 
1990: Hallo Hallo – performed by the original singer Lonnie Devantier
1992: Alt Det Som Ingen Ser – performed by the original singers Kenny & Lotte
2000: Smuk Som Et Stjerneskud – performed by the original singers Olsen Brothers (Brødrene Olsen in Danish) who also went on to win the Eurovision Song Contest with this entry, although performed in English 
2001: Der Står Et Billde Af Dig På Mit Bord – performed by one of the original singers Søren Poppe
2005: Tænder På Dig – performed by the original singer Jacob Sveistrup
Lei & Lupe Moe will be choir singers, just as they have been many times at Danish finals and as well as the Eurovision Song Contest. As host Jørgen De Mylius has been selected. He has been the Danish Eurovision commentator a total of 24 times and also hosted the Danish final 11 times. 
You might also want to read: