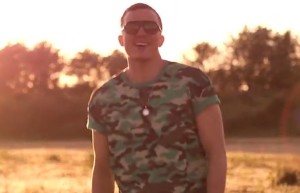 A few weeks ago the single was released – and yesterday the video followed. It is the latest single from former Danish Eurovision participant Brinck and it is quite appropriately titled after the season which inspires us to be playing outside in the nature.
He participated in the Danish national final, the Dansk Melodi Grand Prix, just a few months ago with the song Human. The Danes decided to send Emmelie de Forest to the international competition in Malmö instead of him, which afterwards turned out to be quite a wise decision as she won the Eurovision Song Contest with the song Only Teardrops. Had Brinck have won the national final, it would have been a comeback to the Eurovision stage as he did represent Denmark in 2009 with the Ronan Keating written song Believe Again. 
Yesterday the video to his latest single was released. The song is titled Sommer, which simply translates to Summer. This song was also originally submitted to the Dansk Melodi Grand Prix. As it didn't get chosen by DR, the competitive TV channel TV2 instead picked up the tune for their morning TV. Parts of the song is therefore already familiar to many Danes. 
The video is recorded in Kollund in South Jutland, Denmark and the area around.
Below you can see two videos: First of course the official video to Sommer and second EuroVisionary's recording from a concert with Brinck in Aalborg. Here you can also hear clips from that song as well as check out what else he has to offer, which of course includes Believe Again, his 2009 Eurovision entry. This second video is recorded in 3D which we recommend in order to enjoy it to its fullest. If however you don't yet have the appropriate equipment this can easily be turned off in the player below for regular 2D viewing.
You might also want to read: