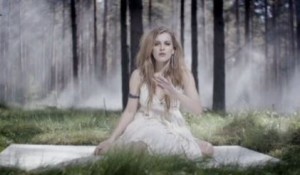 Since Emmelie de Forest won the Eurovision Song Contest nearly a month ago she has been busy promoting herself. Next step came today when the official video clip to the winnig song, Only Teardrops was released.
Bookmakers and fans agreed: Danish Emmelie de Forest was the big favourite to win this year's Eurovision Song Contest. Despite countries like Azerbaijan climbing up the rank offering stronger competition than suspected, the two weeks in Malmö didn't change anything. The semi-final was considered a walk over and in the final the natural barefooted girl managed to live up to the expectations when she won a convincing victory.
Today the offical video clip to her winning song Only Teardrops was released. The video was recorded in the forest and on the beach in North Zealand, Denmark with Michael Sauer Christensen as director.
Emmelie de Forest says about the video that "it has been a really fun experience. It is the first time I try to make a music video, but the team behind it has been so skilled and professional". 
The official video can be seen on DR's website. 
You might also want to read:
– Cities in play for hosting the 2014 Eurovision Song Contest
– DR announced Executive Producer for the 2014 Eurovision Song Contest
– DR's press conference after returning home with the Eurovision trophy