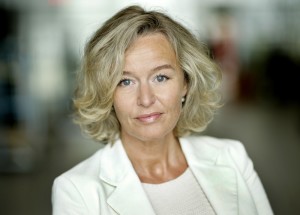 This afternoon DR announced the names of the ones in charge of organising the 2014 Eurovision Song Contest. As Executive Producer we find a 47 year woman with 17 years of experience in DR. DR's head of Entertainment and Head of DR event will also be deeply involved in the contest.
Pernille Gaardbo, 47 year old producer has the past 12 years been working as Head of DR's Media service and has a total of 17 years of experience at DR. As Head of DR's Media Service she has been behind TV shows like Dansk Melodi Grand Prix and X-factor. About her new responsability she says: "To organise the Eurovision Song Contest is a dream coming true for someone with my background. In DR we have never been more ready than now to take on such a task. We have worked hard with optimising our production through the past few years so that we are ready to make such a big production as the Eurovision Song Contest is".  
She adds that it is important to get started on the work right away: "It is a big task, which involves an event part and three big live shows. So now we need to set the right team of people who together with cover the competences needed". 
Involved in the contest will also be Jan Lagermand Lundme, DR's Head of Entertainment, who will be responsable for the content of the shows. Søren Therkelsen, Head of DR event has been added to the team as well. He will be in charge of partner relations.
You might also want to read: