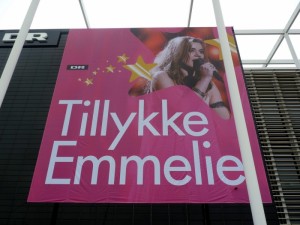 Denmark was the top candidate to win this year ever since the national final in January and as such high viewing figures were expected. Today they were announced showing that nearly 80% of people watching TV Saturday evening had tuned into the final of the Eurovision Song Contest.
Since January where Emmelie de Forest won the Dansk Melodi Grand Prix fans and bookmakers predicted a Danish victory at the Eurovision Song Contest. As more countries afterwards selected their entry it did't change the fact that Only Teardrops still was considered the most likely winner. 
Viewing figures for the final: 
This of course spiked an extra interest in the population. Last year the Eurovision Song Contest final, which Denmark also qualified for, was seen by 990.000 viewers. The viewing figure for this year's final is 1.704.000, which is equal to that nearly 80% of everyone watching TV Saturday evening tuned into the programme to see whether or not Emmelie de Forest and her team could live up to the high expectations.
The 1.7 million viewers makes it the most seen Eurovision Song Contest final in Denmark in 11 years. We have to go back to 2002 to find higher viewing figures. Back then 2.081.000 watched Malene Mortensen not being able to live up to the expectations about a top5 placement.
Viewing figures for the semi-final:
Denmark participated in the first semi-final this year. This semi-final was seen by 929.000 in Denmark, which is also significantly more than last year where 798.000 saw Soluna Samay qualify to the final. 
DR, the Danish broadcaster, furthermore experienced a big popularity online. Their official Melodi Grand Prix site was visitited by 407.000 last week, which makes it one of the most popluar sites on DR ever.
To the high Danish viewing figures DR's Head of Entertainment, Jan Lagermand Lundme says: "It was so nice that Emmelie de Forest won Saturday, and it is absolutely fantastic that an event like the Eurovision Song Contest still 56 years after Denmark first participated, has the magical ability to gather so many around the TV screens and be the big topic for many days. I am looking so much forward to that the show will be broadcast from Denmark next year and that DR 1 will be showing it". 
You might also want to read:
DR's press conference after returning home with the Eurovision trophy
Gallary: DR press conference after Eurovision Song Contest victory