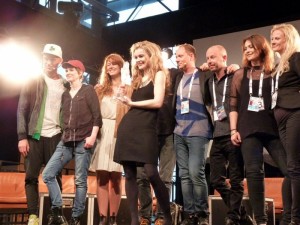 As Emmelie de Forest and the rest of the Danish winning team returned back home it was time for a public celebration of the 2013 Eurovision Song Contest victory. The national broadcaster, DR, held a press conference where they looked back on how things went, but mainly forward towards hosting the event in 2014.
It was a happy broadcaster who could welcome Emmelie de Forest and her winning team Sunday afternoon at DR's headquarter in Copenhagen. Denmark had been the favourite to win ever since the song Only Teardrops won the national selection back in January – and the night to Sunday it became clear that they had managed to live up to the high expectations; Denmark had won the Eurovision Song Contest for the third time. 
At the press conference it was clear the press wanted to know just how far DR was with the planning of the 2014 Eurovision Song Contest. DR's top boss Maria Rørbye Rønn stated that nothing has started yet: "Now it is about celebrating the victory and then we start the work Tuesday". 
Naturally a lot of questions were asked about the financial aspect of hosting the event. To that DR answered that it is yet to early to tell how much it will cost to host the event and how it should be financed. They first want to find out how it is they want to host things, what kind of show do they want to create. Once that is decided then it is time to look at which arena is most suitable for this and how the show will be financed. They made it clear that we won't nessasarily see something similar to the newly held contest in Malmö, but that it is important for DR that they find what suits them best.
At the press conference it was also revealed that Emmelie will be meeting her new band for the first time today. It is a basic band consisting of three people with the option of expanding for larger arrangements. The band is expected to support Emmelie when she will be travelling around performing this summer. Her first singing job after returning home from Malmö was however held yesterday evening when she was welcomed home by the Danes in Tivoli, Copenhagen. 12.000 people had turned up to congratulate her and to hear her sing the winning song Only Teardrops. Emmelie also sang the Danish national anthem.
One of the songwriters, Lise Cabble was asked about her succesful Melodi Grand Prix and Eurovision Song Contest history. She was compared to Keld Heick, who has written 10 Danish Eurovision Song Contest entries and more than double national final songs. Lise Cabble was mentioned to almost being "half a Heick" asking if she would be satisfied now that she won the Eurovision Song Contest or if she would continue. To that Lise answered that she is likely to continue as she is very competitive and loves the contest – opening up for that she could end up becoming "a whole Heick". 
Finally EuroVisionary confronted DR's head of Entertainment, Jan Lagermand Lundme with his promise given at this year's national final, where he promised to take on Birthe Kjær's dress from the Eurovision Song Contest in 1989. To that he backed out saying that he dress unfortunately won't fit him and that the seemstress can't alter it ;-).
You can see pictures from the press conference in our gallery.