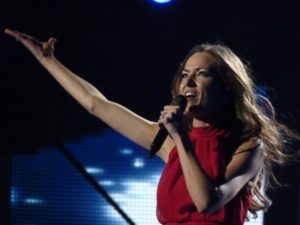 Last year Danish broadcaster, DR, had to disqualify an entry shortly before the national final – and now there is problems again. Kate Hall's entry to the Danish final have been available for download since 2011 and as such would have faced disqualification had it won.
Shortly before the Dansk Melodi Grand Prix last year the song Nowhere was disqualifed after several days of speculations about whether or not it was ok that the song had been available to listen to half a year before. DR made a big deal out of that they would now specify even more to the composers about the importancy of living up to the rule about the song not having been available before a certain date. This date is set by EBU, the European Broadcasting Union, who organises the Eurovision Song Contest. This year it was set to 1st of September 2012.
Apparantly one team of songwriters forgot those rules when they sent in the song I'm Not Alone to the Danish final. It was selected and Kate Hall chosen to sing it. The strange thing is that one of the songwriters is Lars Halvor Jensen, who have participated in the national final in Denmark before – and also in the Eurovision Song Contest as he co-wrote Brinck's Believe Again from 2009 and Jedward's Lipstick from 2011. One would say that he knows the rules, but something still went wrong.
Eurosong.dk was today able to break that the song I'm Not Alone has been available for online download since 2011. It was aparantly put up by the songwriters themselves to various music services in a version by Chantonique under the title Eyes Closed. The website have talked to DR's entertainment boss, Jan Lagermand Lundme, who says: "This is yet another example of how it in modern times is impossible to avoid the songs appearing on the internet. We have changed the rules in Denmark and we also got EBU to do the same thing. In every case we now evaluate if the song have had a significantly advantage of being available or not. I haven't looked closely into the Kate Hall-case, but I believe she might have been allowed to participate anyway".

You might also want to read:
Links