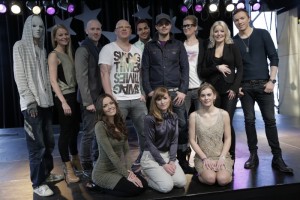 After a long day with rehearsals the participants in Dansk Melodi Grand Prix 2013 last night had the oppetunity to mingle and relaxe a bit at the welcome party. EuroVisionary catched up with five of them for interviews about their career, the latest preparations and their future plans.
The welcome party took place at the music and dancing place, Frematen in the centre of Herning, the host city of this year's Danish final. 
We caught up with five of the participants for some video interviews, of course recorded in our usual 3D. We recommend watching it in 3D in order to enjoy the video to its fullets, but should you not yet have a pair of suitable glasses you can easily turn this feature of in the video player for regular 2D view.
Below you can see interviews with the following five participants:
Simone Egeriis
Brinck
Emmelie de Forest
Jack Rowan & Achmad Darwich
Louise Dubiel 
You might also want to read: