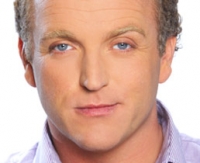 Gordon is one of the biggest names in Dutch showbiz, and many fans will no doubt recognize him as one of the members of De Toppers, who performed Shine for the Netherlands at the 2009 Eurovision Song Contest in Moscow. He's back in the spotlight for his music now rather than his private life with the simultaneous release of three singles.
Gordon Heuckeroth, otherwise simply known by his stage name, Gordon has recently figured in the Dutch media more due to his turbulent private life and failures. His much publicised spats with his former De Toppers bandmate Gerard Joling fuelled a media feeding frenzy. Gordon was also part of the group Los Angeles,  The Voices who attempted to enter the Swiss Eurovision preselections last year, but both of their entries, Wild White Horses and Change is Gonna Come failed to make the final cut.
Not one to be held back by defeat, a beaming Gordon has been shown the last few days in the Dutch press following reports of his newest single release. It is the first time in four years that the artist has had any solo release, since the launch of his single Niemand Lacht Zoals Jij / No one Loves Me Like You back in September 2009. The artist has made quite the comeback this last week, with no fewer than three simultaneous single releases, all of which after just one day of sales managed to make it in to the iTunes top 60. The single Kom Eens Dichterbij (Come Closer) gained the highest entry, storming straight in at number 47. His other Dutch language single, Liefde Overwint Alles (Love Conquers All) was right behind, landing at number 48 followed by his third single, So This Is Me, which went straight in at number 60.
Gordon is reportedly thrilled by the news, which comes after a long silence following the Los Angeles, The Voices debacle. "It's a completely new sound, a new Gordon as it were, so I guess you could say it's a kind of comeback" the star told Dutch site BuzzE.  
You might also like to read: