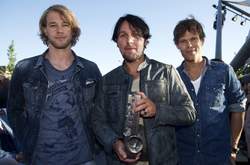 This year has been something of a rollercoaster ride for the Dutch trio 3JS. It saw the release of their greatest hits album Totzoverder back in January, followed shortly after by the untimely departure of guitarist Jaap de Witte. The future is looking bright for 3JS with both a single and album due for release.
In January, guitarist Jaap de Witte was forced to bow out from 3JS in the middle of their Bronnen tour after having played with together with bandmates Jan Dulles and Jaap Kwakman for over twenty years. The announcement came as a shock to fans; de Witte had been diagnosed with a neurological disorder, making guitar playing increasingly difficult for him. De Witte's son, Jan stepped in to replace his father on tour, a decision which seems to have been an unmittigated success, leading to Jan becoming a permanent member of the trio.
The first single to feature the new line up of the 3JS is due for release on the 23rd of August, entitled Til Me Op (Lift Me Up). This is to be the lead single from their forthcoming album, which has been given the title Dichter Bij de Horizon (Closer to the Horizon). This will be their first release featuring the newest addition and their first studio album since the release of 4 Elementen back in February 2012. The new album will feature a total of twelve tracks, which are said to be a lot more uptempo than the last album. Welcome back, boys, you've been missed by many.
You might like to read: