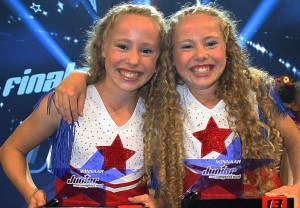 Last evening the Netherlands made their pick and chose the couple of twins Mylène and Rosanne to represent them with the song Double Me at the upcoming Junior Eurovision Song Contest, which will be held in Kyiv on the 30th of November.
As usual for the past years, the Dutch national selection for the Junior Eurovision Song Contest consisted of two semi-finals with a total of eight participants, but only the strongest five would proceed to the big final. Two acts qualified from each semi-final and one bonus wildcard was given out to one of the young stars that did not qualify directly.
This was the line-up of the final show which was hosted by Ewout Genemans:
1. Loeki – Gewoon In Love
2. Kim – Ik Ben Verliefd
3. Sarah & Julia – Live Life
4. Mathilde – Wondergirl
5. Mylène & Rosanne – Double Me
The decision was up to a professional jury, the kids jury and also the viewers at home and the voting was really exciting. The five-member kids jury that included last year's winner of the Dutch final, Femke, gave their twelve points to the twins but the professional jury made up by Brownie Dutch, Katja Schuurman and Tim Douwsma decided that their favourite was Kim. So, the final decision was in the hands of the viewers' vote that awarded their maximum points to Mylène and Rosanne.
The twins were born in Badhoevedorp in 2000. They love singing, dancing and acting and they have participated in the tv show Kinderen Voor Kinderen in 2009 and 2010 and they have starred in several musical shows such as Dik Trom, Shrek and Joseph. Their hobbies are tennis, football, playing outside and drawing.
They have written the lyrics of their song themselves (with help of
their parents), and it is about that as twins they are the same but at
the same time they are quite different. Asked about their differences,
Rosanne confesses that she is very sloppy and her sister is very neat
and Mylène adds that she is left-handed while Rosanne is right-handed.
Even their favourite colors are different as Mylène likes turquoise and
Rosanne loves pink. For Mylène the best home jobs are egg and cake baking and washing lettuce and the most boring ones are cleaning the room while the mess is not hers and unloading the dishwasher. Rosanne agrees but she also likes baking cookies and thinks that clothes' cleaning is boring.
After they become winners, Mylène and Rosanne said that "we really like singing, dancing and acting and it seems a lot of fun to work with the producers to make our song better, easier and more fun. It seems like a lot of fun to make a video and a song and do all this in a TV show".
You can watch their performance in the video below.
You might also want to read: