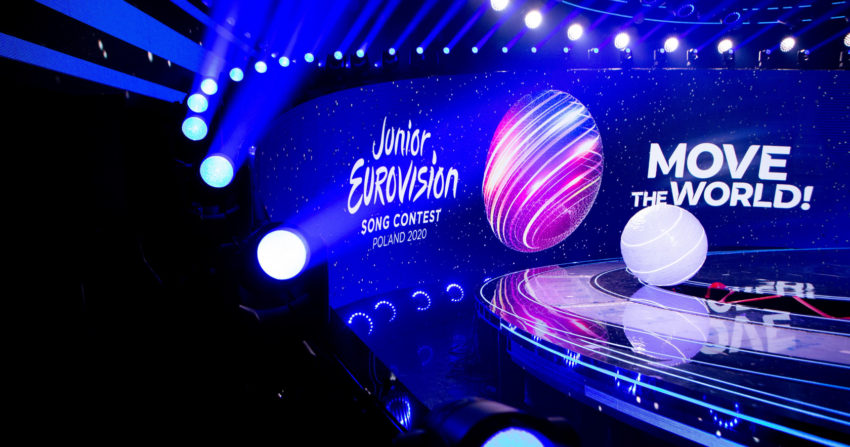 The participants was shown in recorded live performance, most from a studio in their home country. 12 countries took part and in the end France took the trophy. But was this a vision of how the Eurovision Song Contest in May 2021 will be?
The 2021 Junior Eurovision Song Contest wasn't cancelled as the adult Eurovision Song Contest was six months ago. The Coronavirus pandemic is however very much still present in Europe. As such no foreign participants travelled to Poland for today's Junior contest. Instead a recorded live performance from a studio was shown. Three countries however; Serbia, Ukraine and Malta did manage to get to Poland to record their 'live on tape'  video on the Junior Eurovision stage in Warsaw, Poland.
We already know that all 41 participants for the 2021 Eurovision Song Contest have been asked to produce such a video for next year's contest. That's a 'just in case-scenario' as it's still too early to tell how next year's contest might be affected. Despite the current promising hope for a COVID-19 vaccination, it could still be that we will see a Eurovision 2021 pretty much in the style of this 2020 Junior contest.
Could it work? Yes, it can if it's clever with something linking all the performances together. At this year's Junior Eurovision Song Contest, it's a the big ball seen on stage with the performances, in the greenrooms across Europe and on the stage in Warsaw, Poland. There's still plenty of opportunity for a country to decide to keep it simple – or big with a spectacular performance and outstanding backdrop. One thing that didn't work though: The performance including Duncan Laurence (The Netherlands 2019 Eurovision winner) in a hologram!
In fact, this video format could be a way to bring down the cost of the Eurovision Song Contest. But of course, we'll miss the daily buzz for two weeks with rehearsals, interviews and press conferences. The prestige there is at winning a Eurovision Song Contest and the right to host the next edition will probably be smaller too.
France wins Junior Eurovision Song Contest
This was the 18th edition of the Junior contest that took place since it's beginning in 2005. Over the years a total of 40 countries have taken part, but most of them only for a short time. In recent years, sceptical voices have been raised over the fact that most of the participating countries are located in the eastern part of Europe. This year however, we did see Germany get its Junior debut.
How many points do you award your own country? It might sound like a conspiracy theory brought up when certain countries perform better than expected at the Eurovision Song Contest. At the Junior contest, it's however not an issue: Everyone are allowed to vote for their own country!
With a a combination of jury and an online audience voting, this was the top 3 result from the 2020 Junior Eurovision Song Contest:
France
Kazakhstan
Spain
In the video below you can watch this year's French Junior Eurovision Song Contest winning song: