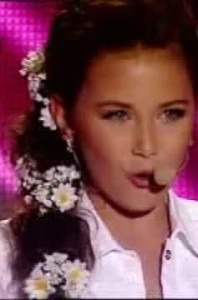 Sofia Tarasova has been chosen by the host nation, Ukraine, to represent them at the 2013 Junior Eurovision Song Contest in Kiev on 30 November.  From a national selection of 20 songs Sofia triumphed with the song, We Are One.
After a long selection process the local broadcaster, NTU, staged the 2013 Ukrainian national selection this weekend. 20 finalists competed to see who would have the big task of following last year's winning act, Anastasiya Petryk.
The 20 finalists were –
Sofia Kutsenko (from Kiev) – Lastivka
Erik Saharian – Ti Kohay
Valeriia Symulyk – Tviy Noviy Den
Adelina Logvynenko – U Gorah
Radiosimya Duet – Sontse, More Y Ostrovi
Ivanna Orlyuk – Chekayu
Kiril Sokolov – Divchinka-Schastya
Yana Guruliova – Vitre
Trio Bon Appetit – Tehas
Hrystyna Tkachuk – Mama
Kapriz Band– Pisnya Poyednaye Nas
Andriy Boyko – Lyubov U Kozhnomu
Dmitry Ludanniy – Zasinay
Co.Mix Band – Chicago
Inessa Gritsaenko – Znayu
Polina Andreeva – Tvoya Zemlya
Sofia Kutsenko (from Kharkiv) – Rozpovid
Alim Khakimov – Prosti Slova
Sofia Tarasova – We Are One
Anna Vagabova – Happy Life 
The voting consisted of a combination of expert jury and televoting.  Finally, it was decided Sofia Tarasova will fly the flag for Ukraine in Kiev on 30 November with We Are One.
You can see Sofia perform We Are One below.
You may also like to read –