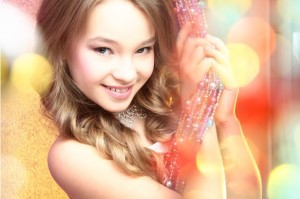 The 11-year old Dayana Kirillova has won the Russian national final and thus becomes the first name on the list of this year's participants at the Junior Eurovision Song Contest, which will take place on the 30th of November in Kyiv, Ukraine. She will sing Mechtay, which means Dream.
National selections for the 11th edition of the Junior Eurovision Song Contest began starting with Russia, whose national took place this morning at the State Kremlin Palace in Moscow. It was hosted by Dmitry Guberniyev and Anastasiya Chernobrovina and eighteen acts performed.
The winning song which will represent Russia this year in Kyiv, Ukraine, was selected via a mix of televote and jury votes. The five members of the jury were Grigory Gladkov, Yuliya Savicheva, Larisa Rubalskaya, Gennadiy Gohshteyn and Alexander Igudin.
Below you can see the list of the eighteen participants at the competition (in the show running order) and the percentage of the vote obtained:
• Vanessa Bezrodnaya – Dinamit – 2.59
• Ulyana Kuznetsova Ulyana- Devochka-Prazdnik – 6.06
• Druzhnie Sestryonki – Utki Poyut – 4.90
• Dayana Kirillova – Mechtay – 12.19
• Anastasiya Egorkina – Muzyka – 5.74
• Anastasiya Zuyeva – Mechta – 3.40
• Kseniya Mulina – Vyshe Nulya – 3.73
• Elizaveta Puris – Noviy Den – 10.22
• Arina Bagaryakova – Hudozhnik – 1.62
• Angelina Kolesnikova- Ryzhaya – 7.08
• 4EVER – Prosto Drug – 6.63
• Vyacheslav Kvasov – Tantsuy Pod Lunoy – 1.91
• Valeriya Eroshenko – Nebo V Nochi – 8.26
• Diana Soldysheva – Polovinki – 5.60
• Larisa Grigoryeva – Babochka – 5.91
• Anna Muzafarova – Na Oblakah – 2.99
• Sofiya Fisenko – Luchshiye Druzya – 9.20
• Alisa Sementina – Raspahnyom My Krylya – 1.98
Last year, Dayana was the runner up of the national selection with the song Pyat Minut Do Uroka. However, she was not deterred by defeat and she came back this year to impress the audience with her spectacularly powerful voice and contagiously energetic performance.
She has been studying music since she was four years old and she plays flute. She has won several national and international music competitions alone and as part of the trio Barbie-Cocktail and this year she will also represent her home country at the festival Slavic Bazaar in Vitebsk.
In the videos below you can watch Dayana Kirillova singing her winning song, Mechtay, and also a recap of the show with the performances of all the participants.