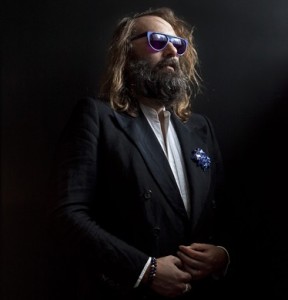 Confection is the title of the surprising brand new album from Sébastien Tellier who represented France at the 2008 Eurovision Song Contest with Divine. The album is a mostly instrumental collection and Tellier is said to have conceived the album as a film soundtrack.
Sébastien Tellier is gearing up for the release of his new studio effort, Confection, on October 14th. According to his record label, Record Makers, Confection is an album very close to the soul of the artist and they describe it as a testimony of his musical abilities and it showcases his deep knowledge of a melody. He defines this album saying that it is like a love letter for a film that does not exist yet.
Apart from one song, Confection is an entirely instrumental
piece that Sébastien conceived like a motion picture score where several
romantic musical themes are showcased in different versions, orchestral
or acoustic. Their sequence brings the listener on a succession of
subtle climaxes, creating powerful emotions and leaving room for
fantazised images.
For those pining for a return to the sound of his 2004 album, Politics, for recording the new songs he has teamed up with the crew who made that nine years ago, including Philippe Zdar behind the boards, Tony Allen on drums, Emmanuel d'Orlando on string arrangements and the keyboardist for Phoenix, Robin Coudert.
The full track list for Confection is as follows:
1. Adieu
2. Coco
3. L' Amour Naissant
4. Adieu Mes Amours
5. Hypnose
6. Waltz
7. Adieu Comme Un Jeu
8. Delta Romantica
9. Curiosa
10. L' Amour Naissant II
11. Coco Et Le Labyrinthe
12. L'Amour Naissant III
13. Curiosa II
14. Le Delta Des Amours
L'amour Naissant is the first single from the album and it is a nice track that makes the coming album all the more interesting. It starts with a glowing sound that slowly mutates into something darkly melodic and haunting with his dejected vocal against the slightly jazzy drumming.
The artwork of the album has been designed by Jean-Baptiste Mondino as well as the video of the first single which stars charismatic French actress Anna Mouglalis and male model Clément Chabernaud.
You can watch Sébastien Tellier singing L'Amour Naissant, the first single of Confection below where you will also find the link to purchase the album.