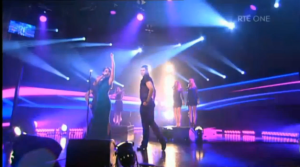 In the most dramatically charged Eurosong ever seen in Ireland the five finalists performed in front of The Late Late Show Studio audience and the viewers all over the country. When the combined regional jury voting and public vote was revealed Can-Linn featuring Kacey Smith was the outright winner.
Since 2011 a mentor system has been in place by RTÉ for their selection process for Eurovision and once again five mentors were appointed late last year. They are; Valerie Roe, Mark Murphy, Hazel Kaneswaren, Cormac Battle and Billy McGuinness. Each of them with performing and or music management and production in their past portfolios.
Tonight's result will be decided by a mix of phone votes and regional jurys, split 50/50. Who will be Ireland's 48th Eurovision song? To get to know the artists please click here.
The Songs
1 Don't Hold On – Patricia Roe (M & T:) Patricia Roe
I said it before and I'll say it again this track is classic Irish Eurovision. Patricia is strong female vocalist and a great lyric that harks back to the days when this was the formula for success at the contest of the 1980's and early 1990's. Wearing a nude effect lace dress in a grey colouring that was floor length she was poised and super confident and the vocals were as good live as on the recorded track. She is supported by a baby grand piano and drum kit on stage as well as two backing vocalists, one being Nikki Kavanagh who was runner up in Eurosong 2011 to Jedward. The panel were somewhat impressed but it was felt that the song lacked the impact and was dated.
2 – The Movie Song – Eoghan Quigg (M & T:) Karl Broderick
With a guitar strap across his shoulder and seated on a stool Eoghan has strong vocals and really gives a professional performance. Wearing a grey/blue shirt and bowtie he engages well with the cameras and looks right down the lense and sells the cute lyrics well. Once the keychange comes Eoghan is up on his feet, in a nod to band westlife who usually rose from their stools at the exact same moment. The comments are very positive for Eoghan; very catchy, a worldwide hit and this could win Eurovision are mentioned after he has sung.
3 – Heartbeat – Can-Linn (featuring vocals by
Kacey Smith) (M & T:) Hazel Kaneswaran (mentor), Jonas Gladnikoff,
Rasmus Palmgren & Patrizia Helande
Wearing a dark floor length dress Kacey sells this song well in her three minutes. Behind her she has two female backing singers, one voilinist and two male Irish dancers which I have to say I feel don't add anything to this performance. Heartbeat is a decent pop track and is likely to be the winner tonight. From the panel we hear that they like this and it could work where Ryan (Dolan) fell down. A great pop song. The Irish element is mentioned – however it was felt that there was too much dancing.
4 – Be Mine – Andrew Mann (M & T:) Cormac Battle (mentor)
Keyboard, drums, two guitars and Andrew at the front. Wearing a hat, a leather jacket and skinny jeans. He looks at home at the front of the band, but the song seemed to lack the punch it needed. I fear that this song would struggle to get out of the Semi Final 2 this year, it is quite forgetable. Nickelback are mentioned as it has a similar sound, not excited about it. His pitch is mentioned, off key at times. Started wobbly but finished strong.
5 – You Don't Remember Me – Laura O'Neill (M & T:) Don Mescall & Lucie Silvas
Dressed in a red dress with a kick below the knee and black trim above the hem Laura really goes for it. Her voice is determined, Adele comes to mind but this is Ireland and Eurosong. She has tremendous strength and really sells the song. Backed by strings, two violins, one guitar and a grand piano. Laura not only performs the song, she acts it as if she has lived the pain all the way. Fantastic, maybe not a Eurovision song, great singer.
The Show
This is the weekly light entertainment chat show that is seasonally broadcast in this slot on RTÉ One and hosted by Ryan Tubridy. Tonight Ryan was joined by the a panel to critique the entires, namely: Louis Walsh, Eurovision 1992 winner Linda Martin, Presenter Eoghan McDermott and Journalist Maia Dunphy. Backstage RTÉ Eurovision commentator Marty Whelan is based and came into play a little more once the phone lines had opened.
There is initially a big reference to Louis Walsh knowing or being associated with most of the acts on the show. The vibe is like he is too connected and could be influencing the voters at home. This is further highlighted when song 5's mentor Billy McGuinness speaks out strongly about how it's not level for all acts with the use of Twitter and the fact that Niall Horan of One Direction fame to ask for his 14 million followers to vote for Eoghan Quigg. This further flairs up when Linda Martin is called out by Billy as being on the Walsh payroll. She gets out of her seat and says she is no small woman and answers him back. Ryan, the show presenter has to come from his seat and ask Linda to return to her seat while the heated exchange continues.
After song two there is a short daliance when radio presenter Mariead Farrell and a Euro-superfan are put to the test to win one of Johnny Logans white blazers. Mairead win's but gives the jacket to the fan.
Throughout the show there is a top 5 favourite non Irish Eurovision entries of all time countdown as voted on
Facebook and Twitter were 5: Nicole – Ein bißchen Frieden – 4 Lordi –
Hard Rock Hallelujah – 3 Alexander Rybak – Fairytale – 2 – Bucks Fizz –
Making Your Mind Up and number 1 was Abba with Waterloo.
Another light moment was a charades type game for a member of the audience which earned all members of the audience a prize.
The performers during the voting are Johnny Logan who does a medley of What's Another Year, Why Me? and Hold me Now. He gives a short interview where he talks about his second chance at winning again in 1987.
The second guests were Paul Harrington and Charlie McGettigan with their guitar and piano to perform 1994 winner Rock 'n' Roll Kids.
The Voting
The winner of Eurosong 2014 is decided by a split of regional jury and public vote.
After the regional jurys deliver their votes from various centres around Ireland – Heartbeat is in the lead.
Once an independent adjudicator passes the result of the public vote to Ryan he calls them out in assending order but the scoreboard has a graphical error and it looks as if Heartbeat and The Movie Song were tied on 99 points.
This wasn't the case and Heartbeat by Can-Linn featuring Kacey Smith are named the winners of Eurosong 2014 and then reprise the entry for Copenhagen. They will perform in the second half of the second Semi Final live from B&W Hallerne on May 8th next.
Watch the Irish Entry 2014 below as it appeared on the Irish Final