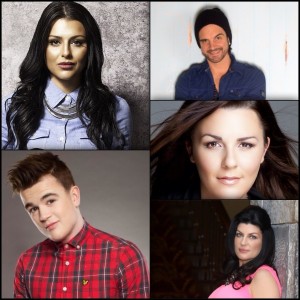 With the Irish final fast approaching RTÉ have today announced Patricia Roe, Eoghan Quigg, Can-Linn, Andrew Mann and Laura O'Neill as the five acts for 2014. Their song titles have also been announced and will be played on Irish radio tomorrow for the very first time.
Now that the acts have been announced it's time to introduce the line up for Eurosong 2014.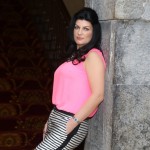 Patricia Roe is mentored by her sister Valerie Roe and will sing her own composition Don't Hold On. This isn't Patricia's first time to attempt to compete for Ireland, having taken part in Eurosong 1992 and 1993 only to lose out to eventual contest winners Linda Martin and Niamh Kavanagh on both occasions. It could prove third time lucky for Patricia.
Her sister, and mentor says: "My vision for Ireland this year is to go back to our roots with a powerful song and an exceptional singer with strong production and the artistic style that Ireland is famed for worldwide. Don't Hold On is a compelling and passionate song that makes my heart beat faster but also break a little bit at the same time! I want this opportunity so much for Trisha. She has been so close so many times. I think this will be her chance to finally shine and for everyone to experience her extraordinary talent. Trisha was always my chosen singer, without question. We were so thankful for all the songs we received but in the end we felt that Don't Hold On had the best chance. Trisha is stunning inside and out and I think her powerful voice, arresting stage presence and beautiful song will capture everyone's hearts."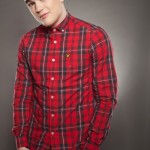 Eoghan Quigg is mentored by Mark Murphy and his song title is The Movie Song.
Eoghan is no stranger to singing contests, at age 16 he placed 3rd in The X Factor UK Final 2008 behind acts Alexandra Burke and JLS. He has since released his debut number 1 album and toured the UK and Ireland. The Movie Song is written by Karl Broderick who also wrote the Irish entry 2005 Love? performed by Donna and Joe.
Mark Murphy said of Eoghan: "Any 15-year-old told 'You've got it' by Simon Cowell has to have talent and I believe my act Eoghan Quigg has all the qualities needed to represent Ireland at the highest level.  Eoghan has proven he is at ease performing in front of millions of viewers and now at 21 years old I feel it is the right time for him to make Ireland proud and represent our country at Eurovision 2014. The Movie Song is a timeless pop song and along with Eoghan's vocal and performance I feel it is a winning combination."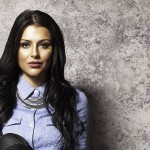 Can-Linn (translated from Irish meaning to sing together) is a group act featuring traditional Irish instruments such as the fiddle (violin) and the bodhrán (as played by two of Ryan Dolan's drumming tattooed backing singers in Malmo 2013) with lead vocals by Kacey Smith. They are mentored by Hazel Kaneswaran and their song is titled Heartbeat. Kacey Smith has previously been part of an Irish girlband Wonderland which was managed by Kian Egan of Westlife fame and longrunning music manager and X Factor judge Louis Walsh.
The song Heartbeat is an Irish/ Swedish co-write with credits to Hazel, Jonas Gladnikoff co-writer of 2010 Irish entry It's For You by Niamh Kavanagh, Rasmus Palmgren; popular Swedish pop writer and Patrizia Helander who was a finalist on Swedish Idol 2007.
Hazel is looking forward to the Irish final saying: "Being a mentor in Eurosong has been a joy. I chose a great pop song with a Celtic twist as I love traditional Irish music. The name 'Can-linn' is derived from the Irish 'to sing together'. I think that's appropriate as we want to work together and bring the Eurovision home!"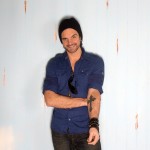 Andrew Mann is mentored by Cormac Battle and he will perform Be Mine, written by his mentor.
Having placed runner up to Jedward with Waterline in the Irish national final 2012 Andrew is back to have another go at representing Ireland at Eurovision. He has a wealth of performance experience having previously taken part in The Voice of Ireland and released his deput album in 2010 with a follow up due this summer.
Andrew has clearly made a terrific impression of his mentor Cormac who says: "Andrew Mann is the real deal. He lives and breathes music 24/7, he gigs six days a week, every week. His level of enthusiasm is absolutely frightening. If he doesn't go forward to represent Ireland nobody should. Andrew will put us back at the top".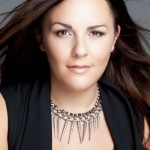 Laura O'Neill is mentored by Billy McGuinness and will sing You Don't Rememeber Me composed by Irish singer songwriter Don Mescall and British singer songwriter Lucie Silvas. Laura has performed since childhood on the stage and has studied Performing Arts in both Dublin and Cork. She featured on the UK X Factor in 2011 and made it through from the initial auditions to bootcamp. Laura is currently the lead singer in a wedding band called The Firm.
Billy McGuinness says the song is the most important part of this process: "For me it is all about the song and with You Don't Remember Me, which was written by Don Mescall and Lucie Silvas, I have avoided any gimmicks and concentrated solely on the meaning and emotion of the words and lyrics. Don Mescall is a familiar name to many as he has written songs for acts such as Backstreet Boys, Boyzone and of course Aslan which is how I met him. I first heard Laura O'Neill singing at our bass player Rod O'Brien's wedding I knew she could deliver this song like no other singer could. When we were recording the song she blew everyone away and I think if she were to release this song tomorrow she would have a massive hit with it. I really feel she has a great future ahead of her."
Tomorrow all five songs will have their premiere play on RTÉ Radio from 2pm GMT on RTÉ 2fm and again from 3pm on RTÉ Radio 1.
The Irish national final takes place as part of chat show The Late Late Show and will be held on Friday 28th February.
Ireland will perform in the second half of the second Semi Final from Copenhagen on 8th May 2014.
Despite the fact that the last Irish Eurovision win was in 1996 they still hold the record of most Eurovision wins, 7 in total with the unprecidented 3 in a row 1992, 1993 and 1994
You might also like to read: