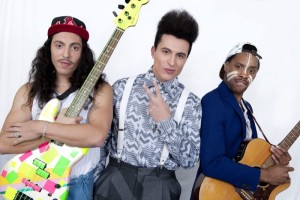 For the first time since 2007, the French have selected their entry for Copenhagen by means of a national final. The result was revealed on air tonight and the French hope that Twin Twin with will bring them plenty of douze points come on that certain Saturday night in May.
Despite various attempts in recent years to restore the fading fortunes of the French at Eurovision, broadcaster France 3 decided that it was time to select their entrant differently, thus reverting to a national final of sorts. They kicked off their revamped selection process by opening a casting for all potential entrants back in October with the submission deadline closing on the 24th of November.
France 3 enlisted the help of former French entrant Natasha St-Pier and her programme Les Chansons d'Abord to present the three hopefuls that had made it to the final stage of the selection. On the 26th of January, a Eurovision special of Natasha's show was aired, featuring guests such as Anggun and the last french winner Marie Myriam to sprinkle a little glitz and glamour over the proceedings. 
The three artists that had been shortlisted were:
01. Destan – Sans Toi (Without You) (T: Cheyenne / M: L'aura Marciano)
02. Joanna – Ma Liberté (My Freedom) (T: Yves Guillon / M: Gerard James Borg / Philip Vella / Sean Vella)
03. Twin Twin – Moustache (T: Lorent Idir / François Ardouvin / M: Pierre Beyres / Kim N'Guyen)
Once all artists had performed their entries, the voting was opened, with a cut off date of the 23rd of February announced. In the run up to that date, all three entries have been promoted on France 3 and France Bleu. Once the public votes were collated, these were then added to the votes of a jury panel, the results of which were just announced tonight by Natasha on her show Les Chansons d'Abord. Those watching could also relive the musical career of iconic singer Dalida as well as catch a performance by another stalwart, Petula Clark, performing Ils ont changé ma chanson.
It was Twin Twin who emerged the winner and who will carry French hopes on their shoulders in Copenhagen in just eight weeks' time. Check out the lyrics video to their entry Moustache below.
France at the Eurovision Song Contest:
France is one of the handful of countries that made its debut at the 1956 Eurovision Song Contest in Lugano, Switzerland. With a total of 56 entries, they've had their fair share of winners over the years. It took only two years for France to score their first win in 1958 with André Claveau and Dors, mon amour. Another win swiftly followed in 1960 with the evergreen Tom Pillibi performed by Jacqueline Boyer. A third win was racked up in 1962 by Isabelle Aubret, when she took her moody Un premier amour to the top of the scoreboard. France was one of the four countries that tied for victory in 1969 with the dramatic ballad Un jour, un enfant sung by Frida Boccara. Wins at the contest started to become elusive, with the French having to wait another seven years for their next victory in the form of Marie Myriam and her rousing anthem, L'oiseau et l'enfant, the last French win to date.
A lack of wins since 1977 hasn't stopped the French from trying however. The eighties saw a mixed bag of results, finishing in the top ten six times. The nineties saw France at its best – innovative, varied, sending entries in a multitude of ethnic styles giving France a new golden age at the contest. They came close again to scoring a much longed for win with the Middle Eastern sounding
Le dernier qui a parlé
sung by the sultry
Amina
. She tied with Sweden's
Carola
for first place, and so for the first time since the 1969 débâcle, a count back of twelve and ten points awarded was necessary to avoid another tie break, with Carola emerging victorious. With five wins, six second places and seven third places, France nevertheless remains one of the most successful countries at Eurovision.