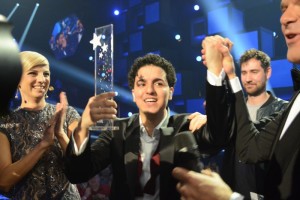 Nearly 1,8 million Danes were watching the Danish national final where Basim won the right to defend the country's Eurovision victory. It is the same number as last year and despite no increase DR is satisfied with the high viewing figures.
Viewing figures for national finals and the Eurovision Song Contest itself are generally quite high in Denmark compared to many other countries, the size of the country taken into account. Out of the total 5,6 million people living in Denmark a total of 1,785.000 watched the 2014 Dansk Melodi Grand Prix. In the last 5-10 minutes the number even went over 2 million. 
The nearly 1,8 million is the same as last year, so no increase despite that the winner will represent the country on homefield at the Eurovision Song Contest in May. Entertainment editor at DR, Rasmus Ladefoged is however satisfied: "When such a big part of the population wants to see a nice show, I can't be disappointed. The viewing figures last year were also really good".
The viewing figures for Dansk Melodi Grand Prix 1999 – 2014:
1999: 1.384.000
2000: 1.356.000
2001: 1.998.000
2002: 2.082.000
2004: 1.779.000
2005: 1.918.000
2006: 1.651.000
2007: 1.492.000
2008: 1.308.000
2009: 1.717.000
2010: 1.864.000
2011: 1.661.000
2012: 1.506.000
2013: 1.785.000
2014: 1.785.000 
The winner of Dansk Melodi Grand Prix 2014 ended up being Basim with the song Cliché Love Song. He will participate in the final of the Eurovision Song Contest on the 10th of May. Below you can see our winning interview with him. It is in 3D, but if you don't have a pair of suitable glasses, this can easily be turned off in the player for regular 2D viewing.

You might also like to read: