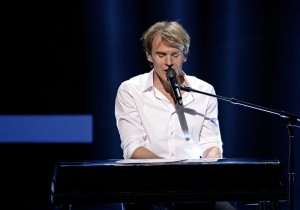 Tonight ten acts will fight to represent Denmark at the Eurovision Song Contest, but last night the remaining six acts in this year's edition of X-factor thought to stay in the competition singing Eurovision songs. It is a new theme in X-factor Denmark, but two of the judges have personal experience with the genre. 
Three acts have been eliminated through the live shows so far, and yesterday one more had to go. The theme in last night's edition of X-factor Danmark was Melodi Grand Prix/ Eurovision Song Contest and the participants and their judges had chosen a wide selection of songs, both from Denmark and abroad:
Judge Remée – category "over 23":
Steffen: Johnny Logan's What's Another Year (Ireland 1980)
Lucy: Lena's Satelite (Germany 2010) 
Pernille: Sébastien Tellier's Divine (France 2008) 
Judge Thomas Blachman – category "groups:
ManBand: Brotherhood of Man's Save Your Kisses For Me (United Kingdom 1976)
Anthony Jasmin: Otto Brandenburg's To Lys På Et Bord (Dansk Melodi Grand Prix 1960)
Judge Lina Rafn – category "under 23":
Henriette: Trine Dyrholm's Danse I Måneskin (Dansk Melodi Grand Prix 1980)
Two of the judges have previous Eurovision/Melodi Grand Prix experience. Remée has twice written a Eurovision Song Contest winner, first time in 2008 where  he wrote the German entry Dissapear performed by No Angels and again in 2012 where Soluna Samay represented Denmark with the song Should've Known Better.
Thomas Blachman often refers to Eurovision as something he don't like, but he has taken part in the Danish final before; in 1995 where Mark Linn performed his Røde Kinder.
After all the performance it was time for one more act to leave the competition. The TV viewers first voted five of the acts through to the next round. The remaining two who got fewest points had to perform again this time leaving their faith to the three judges. At the end they decided that Steffen was the one to go. His own mentor judge had to chose between him and Pernille as he had two participants in the dangerzone.
You might also like to read: