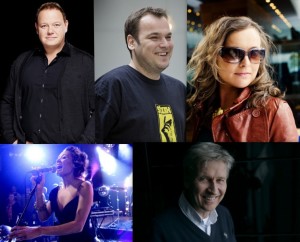 On Saturday Denmark will pick its participant for the 2014 Eurovision Song Contest. The winner of the national final, Dansk Melodi Grand Prix, will be selected in a combination of jury and televoting. The jury members are all well known established names.
The names are not yet confirmed by the broadcaster, DR, but EuroVisionary feel quite sure that these are the jury members for Dansk Melodi Grand Prix 2014: (Edit: DR has now confirmed that these names are correct)
Søs Fenger: Well known singer and songwriter who in the '80's played with various bands including News, which was one of Denmark's best selling bands. In 1989 she went solo and has released more than 10 solo albums. She was on stage in Dansk Melodi Grand Prix in 1982 as backing singer for Jørgen Klubien & Carsten Elmer singing Marie.
Chief 1: He started his career as a part of the Danish rap group Rockers By Choice in 1987, but he is mainly known as songwriter, producer and DJ. He has written three entries for Dansk Melodi Grand Prix – and two of them won! First time in 1997 where Kølig Kaj sang Stemmen I Mit Liv and again in 2012 where he co-wrote Soluna Samay's Should've Known Better.
Camilla Jones: In 2000 she debuted with the single Nothing Comes From Nothing, which came as a follow up to her first album simply titled Camilla Jones. That debut album brought her a nomination as Best female singer at the Danish Music Awards in 2001. She has released four albums, the last one in 2011. Her father is an Americian Jazz musician Ed Jones.
Cutfather: Songwriter and producer, who works together with many big international names and has also won a lot of awards, both in Denmark and abroad. He has been a judge on X-factor and also lately seen in a TV-2 programme where he used music to help people with Tourette Syndrom. 
Jørgen de Mylius: The latter is well known to Eurovision followers. He was host of Dansk Melodi Grand Prix 11 times starting when Denmark re-joined the international contest in 1978 and got to be commentator of Eurovision Song Contest a total of 24 times! In Denmark he is a legend and considered to be a big part of the popularity the show has in this country.
Two of these names were also in the jury for Dansk Melodi Grand Prix last year; Jørgen de Mylius and Cutfather. Søs Fenger was also in the jury in 2012 and in 2010 where also Chief1 was among the ones deciding together with the TV viewers the outcome of the national final.
Dansk Melodi Grand Prix 2014 will be held on Saturday the 8th of March, live from Odense. The winner will represent Denmark on homefield at the Eurovision Song Contest in May.
You might also like to read: