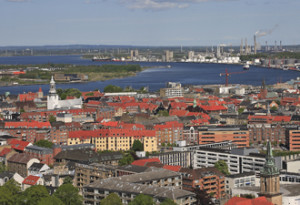 The city might lack ambition when it comes to hosting the Eurovision Song Contest, but a Danish final that they can relate to. We are still almost 4 weeks before the 2014 Dansk Melodi Grand Prix, but Aalborg has today offered themselves as host in 2015.
Aalborg hosted the Danish final, Dansk Melodi Grand Prix, in 1992, 2006, 2010 and 2012. Will 2015 be added to that list? It might just be as the city has one of DR's prefered arenas and the first city to throw in a bid on a Danish final very often gets it. 
Today the mayor of Aalborg, Thomas Kastrup-Larsen said: "Aalborg Kultur og Kongrescenter (Culture and congress center EDT.) has asked whether we think it is a good idea that they work towards getting the Dansk Melodi Grand Prix back to Aalborg for 2015 and we have said yes to that". He adds that a united local counsil agreed, on a meeting earlier today, to make 1,6 million dkk available for it. That matches with what the city previously has thrown in to host the Danish final.
It is early to come with such an announcement as this year's Dansk Melodi Grand Prix still is weeks away as it will be held in Odense on the 8th of March.
Aalborg did initually express an interest in hosting the 2014 Eurovision Song Contest, but the city withdrew its bid as they for the provisionary date didn't have enough hotel capacity available due to another arrangement. The city also misunderstood the hotel capacity as they thought that only hotels in the city center could be counted in. All bad excuses as the date was later moved and it was cleared out that Aalborg did have enough capacity. It was most likely a matter of lack of ambitions, which was also to be read in a statement from the director of Aalborg Kultur og Kongrescenter, Ernst Trillingsgaard: "had we had four years to plan it, I would have liked to be in it. But one year is too little to arrange such a event without the possibility of fiasko. I can imagine all the headlines if we fail: That the North Jutlanders were not able to do".
The 2014 Eurovision Song Contest will instead be held in Copenhagen, but it has been hinted several times that had Aalborg not pulled out, they would have gotten the contest due to the big challenges with the Copenhagen arena, B & W hallerne, and the fact that the other two bidding cities, Herning and Fredericia both were far from matching the capacity required.
Dansk Melodi Grand Prix will be held in Odense on the 8th of March and it is not expexted that a decision regarding the 2015 host will be made before that, probably not even before Eurovision in May.
Aalborg is located in North Jutland and is Denmark's 4th largest city.
You might also like to read:
B & W: This is the story behind the very expensive re-construction of the arena 
Eurovision 2014: Aalborg pulls out as possible host city