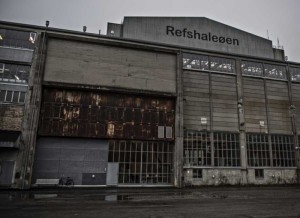 Earlier this week media reported that DR should have been threatening to move this year's Eurovision Song Contest to Herning instead. EuroVisionary guide you through this classical story about how one feather turns into being five hens and how the re-construction of B & W hallerne was underestimated.
Let's make it clear so everyone understands it: The 2014 Eurovision Song Contest will be held in Copenhagen, Denmark. There is no reason to cancel hotelrooms in the fear of it being moved to Herning. That is way too late for that. But why did the fear of that suddenly become a topic?
Tuesday evening the free newspaper Metroexpress published the story that the Danish broadcaster, DR, had asked Host City Copenhagen (a collaboration between Copenhagen municipality, the capital region and Wonderful Copenhagen, EDT.) for an extra DKK 13 million (€1.7m) and if those were not given, they would consider moving the show to Herning instead. Politicians were contacted who immidiately went out speaking highly against the threatening methods used by DR. Other media picked up on it, smelling a potential big case here and suddenly DR became the big mafia who were holding the Eurovision Song Contest as hostage. At first DR and Host City didn't want to comment on the story, which by many was taken as a confirmation: that DR was seriously thinking about moving the Eurovision Song Contest to Herning less than 100 days before the show.
It is not clear where exactly the possible threat came from, but Copenhagen Region polician Mette Abildgaard says that they were handed out a piece of paper with the following information when they had to approve the extra 13 million: "There has been a series of serious and unforseen expenses regarding the physical frames which have a serious impact un the budget. These challenges must be addressed in the nearest future in order for this project to take place. The alternative is that the arrangement can not be held in Copenhagen. These costs are not in the budget and they require a special permission".  It is not clear exactly who should have phrased that piece of paper, but as DR sees it then it was a local politician who let a remark fall about possibly moving the contest. They deny that it comes from them, and as this is an area which is not to be paid by DR, it also seems unlikely that they should have phrased it like that.
Wonderful Copenhagen's communication chief says about that document: "I think it is some sentences from a meeting taken out of its context. We are facing a new reality here after we have gotten full access to the venue and can see that it required more money than we first thought".
Both parts in this case, DR and Host City Copenhagen has spoken out about it now, totally denying the story as it was brought my Metroexpress and as policians have told about. The 13 million DKK were unforseen expenses as part of the renovation of B & W hallerne. More precise then it is reported to be three pillars whose removal will cost more than expected as they were bearing ones, while they first was mentioned to be none bearing.
Construction costs lays only with Host City and as such have nothing to do with DR, who is resonsable for the show part. Executive producer of the 2014 Eurovision Song Contest, Pernille Gaardbo says: "We are not threating anyone and have no plans about moving the show. We have a good collaboration with Host City Copenhagen who are re-building the arena on Refshaleøen". 
Host City Copenhagen's boss Martin Bender basically says the same thing as he say that they have an excellent collaboration with DR and that there have been no threats. About the 13 million DKK he says: "All parts in Host City Copenhagen have from the start been aware of the risk of unforseen expenses. It is needed construction changes and as such the budget increase has been allowed".
One can then ask how it can come as a surprise that those three pillars were bearing ones, and wonder about if it also is the only thing not sorted out yet. According to EkstraBladet more surprises are likely to come as it hadn't been calculated that DR would need to be able to hang up heavy equipments like lamps and cameras and as such the ceiling will need to be altered as well. They also write that there is as of yet nothing arranged with transportation, just ideas, and that the roads in the area still lack asphalt, which hasn't been ordered yet. 
The report, which was sent to the municipality and the region, also states: "After the B & W hallerne has been emptied for containers and it is winter the temperature and ventitation are different than it was during expection in the summer in the full hall, therefore the budget has turned out to be wrong". In the same report it is mentioned that the bearing pillars were estimated to cost 2 million DKK, but after inspection it will cost 9,9 million DKK. 
The experienced festival boss Leif Skov, who works as a festival consultant in both Demark and abroad, applauds DR and Host City Copenhagen for trying something different, but he thinks they might have underestimated the task of making B & W hallerne suitable: "They have not been having the right expertise in relation to this creative task and as such have underestimated the project. You can't base such an arrangement on that it will be good weather or that you can find some volunteers who have a little rowing boat which they can use to sail the guests over. You have to think of a worst case scenario and that is not something one individual can do alone". 
EuroVisionary asked EBU about the situation with the three pillars, which was first mentioned to be non bearing as that is a serious matter in the whole construction. Sietse Bakker, Event Supervisor says: "The often complicated details about the venue and the approval process are between the EBU and its Member Broadcaster, in this case DR. It is at DR's discretion to decide if and what they wish to share with the media. Every year, the EBU requires a safe and secure venue, which meets all applicable national regulations and can host three state-of-the-art live television shows. We are confident that the City of Copenhagen and DR will deliver both."
Lately the story has taken a new turn as Danish newspaper BT reported that administration fees of 4,4 milion DKK had not been calculated in. That amount of money is to cover the authority work of approving the reconstruction of B & W hallerne and as such the total increase is now 17,4 million DKK. The new extra costs once again brings the politicians out: Jens-Kristian Lütken, culture spokesperson for Venstre in Copenhagen, says: "I think it is preposterous that with such a large project with so much public money involved that you come with such a big increase in the cost so short before. It shows a nonchalant attitude towards the project. It is like taking both the politicians and the Copenhagen tax payers as hostages".
The subject of Herning as a better option once again came up from media spokesperson from Danish Folkparty, Morten Marinus says: "I think it is a problem that they are asking for taxmoney outside the original budget. They had the option of making it cheaper in Boxen in Herning".
When EkstraBladet asked Executive Producer Pernille Gaardbo why they sticked to B & W hallerne as it is so expensive she says: "We chose B & W as that was what Copenhagen offered". Thereby she also indirectly says that Herning wasn't an option. Among the three cities left with a bid, only Copenhagen could match the requirements and if B & W was all they had after Parken pulled out, DR didn't have much else to go for.
DR as the host broadcaster is responsable for everything regarding the show. They operate with a budget of 190 million DKK (€25m) for the 2014 Eurovision Song Contest and so far there is nothing indicating their budget to be increased. Host City Copenhagen initially had a budget of 35 million DKK (€4.6m) which should cover re-construction of B & W hallerne, transportation for delegations, all events surounding the Eurovision Song Contest etc. It is this budget, which needs to be increased.