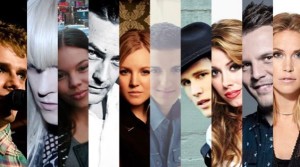 Today the particpants at the 2014 Dansk Melodi Grand Prix were officially presented at a press confernece. Small clips of each of the 10 entries were afterwards made available revealing no obvious winner, and maybe a bit too many bland pop songs.
The 10 participants were revealed nearly three weeks ago, but it wasn't until today they were officially presented at a press conference at broadcaster, DR's headquarter in Copenhagen. The artists entered the stage, one by one, to the music of their own entry. Those 30 seconds clips have afterwards been made available for the public to listen to.
The sneak peek, as DR calls them, can be found on their website, but they reveal no obvious winner, in this bunch consisting of very identical pop songs. Based on these small clips the strongest ones appears to be Rebekka's Your Lies and Bryan Rice and his I Choose U, but as always, it is hard to judge based on just 30 seconds. 
Dansk Melodi Grand 2014 takes place in Odense on the 8th of March – and the following ten songs will fight to represent Denmark on homefield at the Eurovision Song Contest this year:
(In running order) 
Songtitle: I Choose U
Artist: Bryan Rice 
Songwriters: Bryan Rice, Lars Halvor Jensen, Johannes Jørgensen, Shanna Crooks

Songtitle: Your Lies
Artist: Rebekka Thornbech
Songwriters: Danne Attlerud, Gustav Eurén, Niclas Arn
Songtitle: Feeling the You (Wildcard)
Artist: SONNY
Songwriters: SONNY, Frederik Tao Nordsøe Schjoldan, Thomas Lumpkins
Songtitle: She's the One
Artist: Danni Elmo
Songwriters: Engelina, Kenneth Nicolaisen , Søren Vestergaard, Marcus Linnet
Songtitle: Vi finder hjem
Artist: Emilie Moldow
Songwriters: Engelina, Ole Brodersen, Kasper Larsen, Basim
Songtitle: Right By Your Side
Artist: GlamboyP
Songwriters: Mathias Kallenberger, Andreas Berlin, Jasmine Anderson
Songtitle: Before You Forget Me (Wildcard)
Artist: Nadia Malm
Songwriter: Nadia Malm

Songtitle: Cliché Love Song
Artist: Basim
Songwriters: Lasse Lindorff, Kim Nowak-Zorde, Daniel Fält, Basim
Songtitle: It Hurts (Wildcard)
Artist: Anna David
Songwriters: Anna David, Lasse Lindorff, Kim Nowak-Zorde, Jeremy Huffleman, Marli Harwood, Michael Harwood, Nick Keynes.

Songtitle: Wanna be Loved (Wildcard)
Artists: Michael Rune feat. Natascha Bessez
Songwriters: Lars Halvor Jensen, Martin Larsson, Luke Madden, Lemare Obika
You might also like to read:
Aalborg wants Dansk Melodi Grand Prix back for 2015
Eurovision 2014: This is the story behind the very expensive re-construction of the arena 
A Friend In London sings out – it's officially over now