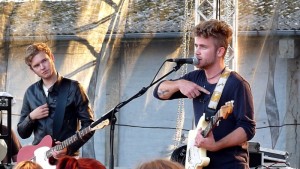 When they won the Danish national final in 2011 and went on to a great 5th position internationally they were four boys who had been together for nearly 10 years. A year ago two of them left, and now Sebastian and Tim are no longer able to continue. A Friend In London is history.
In April 2013 A Friend In London announced that Esben Svane and Aske Bramming left the band leaving Tim Schou and Sebastian Winther Olsen alone. Back then they told EuroVisionary that they would continue with a full band, and not as a duo. That however didn't work out, as they tell in their press release of today: "It feels wrong".
You can read more about the leave of Aske and Esben in our article from April, 5th 2013. 
Below you find the press release in full lenth without any editing:  
"To all press, FRIENDS and supporters all over the world.


After 10 years of amazing experiences and huge memories, A FRIEND IN LONDON has come to an end.


We have gone through so many changes the past few years:
After Esben and Aske's exit in early 2013, Sebastian and I hired new musicians for a German tour and kept the AFIL spirit alive, we had a GREAT tour, but for me (Tim) to keep going on as A FRIEND IN LONDON, feels wrong and we, the original 4 boys of the band, want to end the circle together here and now and say thank you to all of you, who have been so supportive and generous with your love. You have all played a big part of this rock'n roll adventure we have been on. THANK YOU.


But this is NOT the end for the 4 of us as musicians. AFIL has given us so much experience and opportunities for new initiatives in our future lives.


Follow us here individually:


Tim Schou : www.facebook.com/timschouonline
Esben Svane : www.facebook.com/esbensvanemusic
Sebastian Vinther is playing in a band called "Mother Lewinsky"
Aske Damm is playing in a band called Mount Rushmore Safari


We're all insanely happy at this point of our lives and wouldn't have done it any other way.
And we're all still as great friends as we always have been.


AFIL – signing out


Tim and the boys".
A Friend In London represented Denmark at the Eurovision Song Contest in 2011 with the song New Tomorrow. They reached a fantastic 5th position with the song you can see below.
You might also like to read:
Copenhagen plans for Eurovision 2014 further developed
Eurovision 2014: Allocation draw result
Tim Schou and Kat Stephie win springboard competition