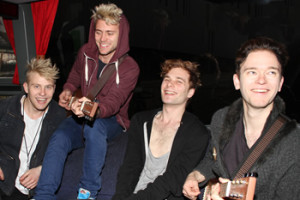 Since they achieved a fifth position at the Eurovision Song Contest in 2011, A Friend In London have had great success. Just minutes ago they however announced that both Esben Svane and Aske Bramming will be leaving the band, which Tim and Sebastian hope to be able to continue in some kind of way.
The announcement about the split up of A Friend In London, probably comes as a surprise to many. Their drummer, Esben Svane recently released a solo EP, but nothing indicated that he would completely leave the band. The statement just released however mentions that both him as well as Aske Bramming now move on to other things.
It is also mentioned that leadsinger Tim Schou wish to continue together with Sebasitan Winther Olsen. Those two have before been doing smaller intimate gigs together, but it is not yet known if this is what will now be the future for A Friend In London or if the band might get new band members.
Below you can see the message which Tim Schou just released via A Friend In London's Facebook page. EuroVisionary have decided to bring it in full and not edit anything in it:
I wanted our fans to be the ones to read this first. I'll answer any questions u may have. But u must know that we are all happy and excited about the future. Please read. Hugs Tim:
Four great musicians met in 2005 at a music school and developed A Friend in London.
Over the past 7 years, we have toured over 8 countries, had Eurovision success, #1 songs in several countries and we have become a family.
We couldn't have dreamt it to be any better and it really hit it home when we were touring with NKOTBSB tour and played in front of friends and families in Denmark.
To top off the journey, when we played in front of 65,000 in Malta early March and they all sang our song, New Tomorrow, with us, it gave us a feeling like we have never had before.
As all families tend to do, people will end up going down separate paths and follow different dreams.
This doesn't change our friendship as we all wish each other the best in all our dreams and successes.
It doesn't mean that we will not play again in the future.
It means, when you love someone, set them free to live their dreams
Therefore, we are announcing that Esben Svane is pursuing a solo career as he has been writing songs the past couple years and just recently released an EP.
He is getting positive accolades on his EP and his live shows so we all wish the most and best for Esben and we would ask that all AFIL Friends support and follow Esben as he is still our brother.
Aske Bramming has decided to go back to working a regular job, saving money for traveling around the world.
In the meantime, Tim Schou will continue the legacy of A Friend in London in collaboration with Sebastian. Tim has already been writing for the 2nd album in Los Angeles with writers that have written for Katy Perry, Miley Cyrus, Backstreet Boys, Train, Kesha, etc….
Sebastian Vinther has also decided to enhance his education and is currently in school. In the future this will be taking up some of his time, but he will continue to work closely together with Tim.
A Friend in London is touring some Germany dates in June and supporting Simple Plan in Vienna. The lineup for these shows will be announced later on.
For any further information or questions, you can direct them to our manager, Brian Huston at [email protected]
Thank you to all our AFIL Friends for the continuous support and we look forward to bringing you new AFIL music.
Edit: After the publication of our article we receieved the following message from the band: "We will still be a full band playing concerts 🙂"  That probably comes as a great relief to their many fans.
You might also want to read:
EuroVisionary would like to wish the very best of luck in then future to all four band members – and we hope to see them continue in some kind of way. Below you can see them perform New Tomorrow from the 2011 Eurovision Song Contest: