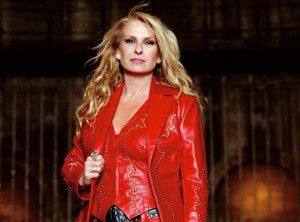 Sanne Salomonsen might suffer some flashback in the coming months as she will now be starring in the musical Hair – something she also did in 1971. Back then it started her career… we can only hope that it won't be a ring closing that fantastic career now she is back. The play will also feature Tim Schou from A Friend In London. 
Though decades Sanne Salomonsen has been one of the most popular female Danish singers and despite the nick name Rock Mama, she has proven herself capable of mastering various genres. It was with quite some jealousy towards their neighbours when the Danish fans in 2005 had to accept her participation in the Swedish national selection, Melodifestivalen, with the song Higher Ground. It has been mentioned that Sanne several times had refused taking part in Dansk Melodi Grand Prix, when she then accepted the Swedish equivalent.
Sanne Salomonsen's career started back in 1971 when she played the role as Shella in the musical Hair at the age of 15. Also starring in that musical was another young name just starting his music carer; Jørgen Olsen. Solo and together with his brother he have participated in the Danish final several time; and in 2000 they won the Eurovision Song Contest when they, under the name Olsen Brothers, got the rest of Europe to sing a long to Fly On The Wings Of Love.
For Sanne Hair meant that she got a record deal and less than two years later her debut album hit the streets and since then she has been an established part of the Danish music scene now with 16 solo albums behind her and more than 10 albums with various bands plus several Greatest Hits albums. Her latest studio album, Tiden Brænder released last year, is available to purchase in your closest CDON store following the links at the end of the article.
This edition of Hair will be set up on Østre Gasværk from the 16th of February to the 21st of April. Also starring in it is Tim Schou, the leadsinger of A Friend In London, who represented Denmark at the 2011 Eurovision Song Contest where they finished 5th with New Tomorrow. 
You might also want to read: