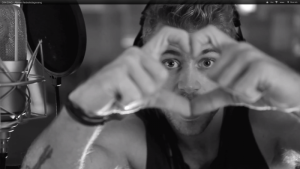 The last two Danish Eurovision Song Contest participants are among the group of artists who have recorded a song together in a charity support for all children being able to celebrate their birthday. A Danish and a Swedish national finalist is taking part as well.
That a group of well known singers goes together in recording a song for charity is not that uncommon – it has been seen before both on the smaller national scale and on the big international scene. The song from the Danish charity organisation Fødselsdagshjælpen.dk is (the birthday help) is however a bit special as it includes the past two Danish Eurovision Song Contest participants, a Danish national finalists plus a Swedish one – and mixed with a few other established singers is also a former host of the Dansk Melodi Grand Prix. 
Fødselsdagshjælpen.dk collects money that is being used for helping children to be able to celebrate their birthdays despite lack of economical resources in their families. 
On the song, that is titled Din Dag (Your day) Soluna Samay, Denmark's Eurovision Song Contest representative, takes part along with Tim Schou, who is the leadsinger in the band, A Friend In London, who participated for Denmark last year ending 5th with the song New Tomorrow. 
A few national finalists are also a part of this charity song: Peter Belli, who has taken part in the Danish final, the Dansk Melodi Grand Prix, a total of three times (1982, 1989 and 1996) and also Sanne Salomonsen, who took part in the Swedish selection, Melodifestivalen, in 2005 with the song Higher Ground. 
The others on the single are Thomas Butterschön, Søren Bregendal, Louise Hart, Thomas Meilstrup and Julie Berthelsen. Thomas Meilstrup is the son of Gry, who represented Denmark at the 1983 Eurovision Song Contest with the song Kloden Drejer. He has already sung together with Tim Schou before as they took part in and won the TV talent show Skjulte Stjerner as a duo. Julie Berthelsen is not unknown to Eurovision fans either as she hosted the 2010 Dansk Melodi Grand Prix. 
Din Dag, which can be heard in the video below, is available via itunes and can also be purchashed for 50 DKK by contacting [email protected]. The money from the sale will go to making sure that "children on their birthday can offer friends in kindergarden and school on a bun, a piece of cake, a little snack or some fruit – or that they can have a good time with their family and experience that decorations and buns on their birthday".