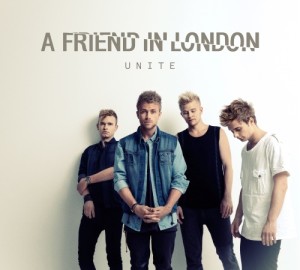 Their fans have been waiting for it ever since they won the Danish final in February 2011 – and now it is finally here: the debut album from A Friend In London. The album, that features a duet with Carly Ray Jepsen, is available to buy from today. 
They have been together for nearly ten years, the secured themselves a fantastic European breakthrough when they represented Denmark at the Eurovision Song Contest in 2011 coming 4th with the song New Tomorrow and they joined Backstreet Boys and New Kids On The Block on a tour – and every time they were asked about their debut album, when will it be releases? The answer was always the same: "We're working on it and it won't be long, but we are not releasing it before we are 100% satisfied".
A Friend In London have been releasing several singles and giving concerts in Denmark as well as abroad, all the time being extremely active in their contact on social medias, so it is not like their fans have had much time to forget about them, not that they would want to, but it is often seen that artists who doesn't manage to release albums while their names are hottest, more or less are forgotten shortly after. 
The debut album Unite, which hit the stores today, includes the following songs:
1. The Light
2. Get Rich In Vegas
3. Hide
4. Are You Lost
5. New Tomorrow
6. Rocket
7. Unite Unite
8. Out Of My Hands
9. Rest From The Streets (feat. Carly Rae Jepsen)
10. Tweeting With The Birds
11. Calling a Friend
12. Stage Dive
13. Time Took My Words