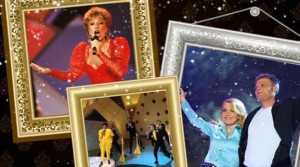 For the Danish national final on Saturday several of the country's Eurovision legends will perform as interval act. Reigning winner Emmelie de Forest will open the show where 10 participants will battle to defend the red and white Danish colours on homefield in Copenhagen in May. 
Dansk Melodi Grand Prix 2014 takes place on Saturday. On stage in the Arena Fyn, Odense 10 acts will compete to represent the country at the Eurovision Song Contest held in Copenhagen in May. The big show will be opened by last year's winner, Emmelie de Forest. 
In the interval act we will be treated with performances from former Danish Eurovision Song Contest participants:
Kirsten & Søren aka Hot Eyes who represented Denmark a total of three times. In 1984 with Det' Lige Det, 1985 with Sku' Du Spørg' Fra No'en and again in 1988 singing Ka' Du Se Hva' Jeg Sa'?. They duo split up in the late '80's, but has in recent year performed a lot together at various Eurovision concerts. They enjoy great popularity both among Danish and foreign fans and are considered among the most popular Danish Eurovision acts.
Birthe Kjær had for many years the nickname "the eternal second" refering to that she came second at the Dansk Melodi Grand Prix three times before she finally managed to win in 1989. At the Eurovision Song Contest she came third with the song Vi Maler Byen Rød, which has later become a classic.
Rollo & King were the last ones to represent Denmark on homefield. That happen in 2001 where they came second in a tight duel against Estonia. Their song was performed in Danish when it won the national final under the title Der Står Et Billede Af Dig På Mit Bord. For the Eurovision Song Contest it had gotten English lyrics and competed as Never Ever Let You Go. With them on stage was singer Signe Svendsen.
The 2014 edition of Dansk Melodi Grand Prix will be held on Saturday at 20:00 CET. The winner of the contest will represent Denmark at the Eurovision Song Contest where they country. as host country, automatically are qualified for the final. 
You might also like to read: