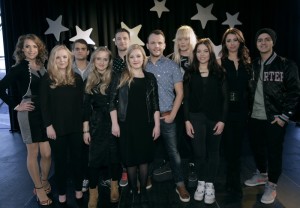 Attention is on this year's Eurovision host country Denmark who on Saturday pick the act that will defend the red and white Danish colours on homefield in May. The line-up brings a good mixture of well established names and up-coming talents. EuroVisionary bring you closer to them in this portrait article.
Saturday evening the following ten acts will compete to represent Denmark on homefield at the 2014 Eurovision Song Contest. 
1. 
Bryan Rice
– 
I Choose U 
(
Songwriters: Bryan Rice, Lars Halvor Jensen, Johannes Jørgensen, Shanna Crooks)
In 2003 Brian Risberg Clausen aka Bryan Rice took part in a talent show on DR, but it wasn't until 2005 he got his breakthrough. The single

 

No Promises

, which became soundtrack to the film Nynne became a massive hit for him and the most played Danish song in the period 2000-2009. In 2006 he was awarded Singer of the year and he has twice before participated in Dansk Melodi Grand Prix. In 2009 as songwriter for Norwegian singer Christina Undhjem, but most remember him from 2010 and his own written

 

Breathing

, which was in heavy competition about the first position. Eventually he came second.

 
One of the songwriters, Lars Halvor Jensen, is quite experienced with national finals and twice has his songs made it all the way to the final of the Eurovision Song Contest. He was a part of the team that wrote the Danish 2009 entry Believe Again and two years later, he co-wrote Lipstick for Jedward representing Ireland. He has also co-written song nr. 10.
2.
Rebekka Thornbech
 – Your Lies (
Songwriters: Danne Attlerud, Gustav Eurén, Niclas Arn)
This 27 year old woman is rather unknown to most. She is studying history and communication, but the past few years she has been focusing on working full time with music. Last year she released the single Woman.

On stage with her in Odense she will have her two sisters, age 25 and 22, as backing vocals. Rebekka's first album So Be It, will be released as stream and download on the 8th of March, the same day as she will fight to represent Denmark at the 2014 Eurovision Song Contest. 
3. 
SONNY
 – 
Feeling the You 
(
Songwriters: SONNY, Frederik Tao Nordsøe Schjoldan, Thomas Lumpkins)
| | |
| --- | --- |
| | To most Danes Sonny Fredie Pedersen is known as a dancer, and as such he participated in the Americian edition of Dancing With The Stars season 15. As a singer he released an album together with his sister Gigi, an album that however didn't sell much but has also released a few solo albums as well. In 2005 a TV crew was ducomenting the lives of Sonny and his family in a reality TV serie. Lately he has been active in musicials where he among others played the role as Danny Zuko in Grease – The Musical.  |
4. 
Danni Elmo
 – She's The One (
Songwriters: Engelina, Kenneth Nicolaisen , Søren Vestergaard, Marcus Linnet)
T

here is not much new comer over Danni Elmo who twice before took part in the Danish national selection for Eurovision, Dansk Melodi Grand Prix. In 2006 she came second with the song

 

2 In 1

, which he wrote himself. The year after he was back again with

 

Meaning Of Love

, which however failed to end up among the six best of ther night, which got a ranking. Since that time things have however been rather quiet around the young guy lately who recently finished his education as blacksmith. 

 
5. 
Emilie Moldow
 – Vi Finder Hjem (We find our way home) (
Songwriters: Engelina, Ole Brodersen, Kasper Larsen, Basim)
| | |
| --- | --- |
| | Being only 16 years old Emelie is the youngest participant in Dansk Melodi Grand Prix, but it is not unfamiliar territory for her. In 2011 she participated in the Danish junior edition MGP with the song Emol. She is a highschool student and she is not taking part in order to get a career out of it, she is just hoping to have a good time.   |
6. 
GlamboyP
 – Right By Your Side (
Songwriters: Mathias Kallenberger, Andreas Berlin, Jasmine Anderson)
| | |
| --- | --- |
| | Under the name GlamboyP we find Patrick Hellegård which the Danes got to know in the TV2 Talentshow Popstars, which we won in 2003 as a part of the boyband FU:EL. They released an album, which however sold misrable and they broke up. In 2008 he represented Denmark at the Eurovision Dance Contest. For Patrick things have changed a lot musically and personally since that time. He is now performing with long blonde hair, long nails, make up and high shoes! Lately we have seen him as guest judge in the Danish edition of X-factor. |
7. 
Nadia Malm
 – 
Before You Forget Me
 (Songwriter: Nadia Malm)
| | |
| --- | --- |
|   | She participated in Idol in Denmark in 2004, but didn't get any particular good result. She however didn't let that stop her and she is slowly becoming an established artist. In the past couple of years she has worked together with Svenstrup & Vendelboe, an DJ duo within the housegenre. This has earned her a top position on the charts and also some awards. Nadia is 27 years old and ready to show herself off as a solo singer in Dansk Melodi Grand Prix with her selfwritten entry.  |
8. 
Basim
 – 
Cliché Love Song 
(
Songwriters: Lasse Lindorff, Kim Nowak-Zorde, Daniel Fält, Basim)
The name Anis Basim Moujahid will not ring a bell with many Danes, but if you only hear the middle name Basim mentioned, most will know who you are talking about. He is of Morocco origin and got his breakthrough at the age of 15 in the 2008 season of X-factor, despite only reaching the quarterfinal. Basim has released two albums, in 2008 and 2009. He is one of those whose talent or lack of such according to some, really has been dividing the country in two.

 
Among the songwriters we find a former Melodi Grand Prix singer himself. In 2008 Lasse Lindorff sang Hoocked On You, which unfortunately finished 9th. In 2009 and 2010 he took part as a songwriter for the group Sukkerchok. He has also co-written Anna David's song – and those two previously had a personal relationship.
9. Anna David – It Hurts (Songwriters: Anna David, Lasse Lindorff, Kim Nowak-Zorde, Jeremy Huffleman, Marli Harwood, Michael Harwood, Nick Keynes)
One of the best known participants in the 2014 Dansk Melodi Grand Prix is Anna David. She is born in Denmark by a German mother and a Danish American father, and in 2005 she got her big breakthrough with the single 

Fuck Dig

, which was also released internationally in English and German. The German version became a chart hit in Austria and Germany. She has taken part in the Danish edition of Stricly Come Dancing, released a total of 22 Danish singles, six German singles and 4 albums.

 
10. Michael Rune feat. Natascha Bessez – Wanna Be Loved (Songwriters: Lars Halvor Jensen, Martin Larsson, Luke Madden, Lemare Obika)
Michael Rune is a saxophonist educated from the Music Conservatory in 2006. He has released a few singles. The first one, Min Indre Stemme (My inner voice), feat. Danish singer Nadia Gattas, reached #6 on the Danish single chart in 2011.

Natascha Bessez is an American actress and singer. Among others she played in the film Sex and the City from 2008. her debut single Heal was released last year. 
The two songwriters, Lars Halvor Jensen and Martin Jensen, also worked together on the Danish Eurovision Song Contest entry Believe Again from 2009. Lars has also co-written song nr. 1.
The W's:
What: The Danish national final, Dansk Melodi Grand Prix 2014.
Where: Live from Odense, the show will be broadcast live on DR1 and a webstream will be available as well.
When: Saturday the 8th of March from 20:00 CET.
Why: The winner will be representing Denmark on homefield at this year's Eurovision Song Contest. 
Who: Aside from these ten participants, we will also see Danish Eurovision legends such as Hot Eyes, Birthe Kjær, Rollo & King – and reigning winner Emmelie de Forest, on stage.