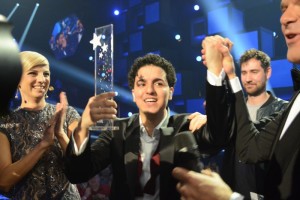 Extra attention will be on the Danish Eurovision entry this year – and extra pressure. The one to defend the red and white colours on homefield was decided in an interesting national final this evening, which ended with Basim winning the trophy. 
The songs: (You can read more about the participants in our Get to know – article)
1. Bryan Rice – I Choose U (Songwriters: Bryan Rice, Lars Halvor Jensen, Johannes Jørgensen, Shanna Crooks)
Bryan Rice is wearing a white shirt and dark red trousers tonight. He has 3 male and 2 female dancers with him. They are standing in the middle of the stage when the song starts up. In the middle of the stage stands a bridge. Bryan Rice walks up on it followed by the 5 dancers. Pyrotechnics rain down behind them when they come down to the floor again.
2. Rebekka Thornbech – Your Lies (Songwriters: Danne Attlerud, Gustav Eurén, Niclas Arn)
Rebekka Thornbech is standing between her two sisters who plays tambourine and mouth-organ. All of them are dressed in black for this pop/folk song, which will undoubtly remind a bit of Only Teardrops though it being two very different songs. It rains with paper leaves at the end of the song. A strong song very much Danish, so don'r rule this one out at all.
3. SONNY – Feeling the You (Songwriters: SONNY, Frederik Tao Nordsøe Schjoldan, Thomas Lumpkins)
Sonny is dressed in a white T-shirt and dark trousers, like several others of tonight's male participants. He opens up the song alone, but is soon followed by 3 female and 2 male dancers. He takes good use of the catwalk and delivers an energetic performance showing his skills as a dancer. Have in mind that Sonny is mostly known as a dancer. During the performance he grabs his crotch in a Michael Jackson style.
4. Danni Elmo – She's The One (Songwriters: Engelina, Kenneth Nicolaisen , Søren Vestergaard, Marcus Linnet)
Danni Elmo is dressed in a light t-shirt in front of a 3 man (woman drummer) strong rock band. Drums, guitar and keybord are present. With plenty of use of smoke and light beams they give this song kind of a rock attitude and it comes across very strong.   
5. Emilie Moldow – Vi Finder Hjem (We find our way home) (Songwriters: Engelina, Ole Brodersen, Kasper Larsen, Basim)
Emilie Moldow is dressed in a tight blue bodysuit, it is see-through, but she is wearing blue underwear underneath. She sings standing alone on a platform. From the 3 sided catwalk 3 male dancers dressed in dark suits enters. They dance around Emilie, in a kind of staccato and mimic way. The windmashine makes her long hair fly nicely free. She is only of the artists tonight singing in Danish.
6. GlamboyP – Right By Your Side (Songwriters: Mathias Kallenberger, Andreas Berlin, Jasmine Anderson)
Glamboy P delivers a performance where he moves around 7 white mannequins singing his song of being alone among a lot of people. He sings to and caress the dolls. Glamboy P is dressed in a black and white outfit. Near the end he gets down ont he floor, but quickly gets up again. It is a bit unusual performance, but absolutely interesting.
7. Nadia Malm – Before You Forget Me (Songwriter: Nadia Malm)
Nadia Malm starts out sitting at a piano with 2 violin players.  Half way the song she leaves the piano and 3 singers turns up on her right side. The audience supports her with their mobile phone lights. They were instructed via screens when to turn on their mobiles and hold them up and when to turn they off again, but this of course was not shown in the actual TV performance. Nadia is dressed in a dark dress  with laces. It is open at the legs in one side making Nadia able to show off her legs.
8. Basim – Cliché Love Song (Songwriters: Lasse Lindorff, Kim Nowak-Zorde, Daniel Fält, Basim)
Basim is dressed in black tuxedo and a lose red tie. He is standing close to the centre of the stage. 3 tuxedo dressed female singers and 2 dancers turns up supporting him in a very energetic performance which will apeal to his already quite big fanscare of teenagers. By the end of the song the Danish national flag is displayed behind them. Be warned, this song is extremely catchy no matter if you like it or not – and probably the one only absolutely sure to be among the three super finalists.
9. Anna David – It Hurts (Songwriters: Anna David, Lasse Lindorff, Kim Nowak-Zorde, Jeremy Huffleman, Marli Harwood, Michael Harwood, Nick Keynes)
Anna David is dressed in a white body stocking with a long trace attached to it. Some might say that she looks like a very sexy bride. She has 3 dancers with white ghost-kind-of outfits that covers them completely, and 2 dark dress backing vocals. There isn't a lot happening at the stage aside from those "ghosts" moving their arms and upperbody a bit. A little bit of pyrotechnics appears at the end of the song. 
10. Michael Rune feat. Natascha Bessez – Wanna Be Loved (Songwriters: Lars Halvor Jensen, Martin Larsson, Luke Madden, Lemare Obika) 
A strong sax played by Michael Rune opens the song. Natascha Bessez is dressed in a beautiful light dressed, long at the back, open at the front, which works great with the windmashine. They have 2 dancers with them on stage. Saxophnoist Michael and Natascha works well together and complement each other extremely well with a lot of flirting in this performance where they walk around a lot and are joined by their dancers near the end for a walk on the catwalk. 
The show:
Dansk Melodi Grand Prix kicked off at 20:00 CET, live from Arena Fyn, Odense. The show was hosted by Louise Wolff and Jacob Riising. For Louise it is third time in a row as she also hosted in 2012 and 2013. Jacob is new on the Danish final, but he comes with plenty of experience from the Danish Junior show, DMGP, which he hosted a total of five times in the period from 2005 to 2013.
The show was opened by reigning winner Emmelie de Forest performing her winning entry Only Teardrops. The performance tonight was quite a bit different to the Eurovision 2013 performance – and with the drumsticks on fire, certainly more dramatic. After the first round through of all the 10 acts Emmelie returned to the stage singing her Rainmaker, which is also the themesong for the 2014 Eurovision Song Contest. This has also been performed in both Malta and Sweden, but she certainly saved the best for Denmark as here it worked a lot better than seen before. She was joined near the end of the song by all the participants in tonight's Danish national final and flags from the other Eurovision countries appear on stage. This is a rehearsal for how it will be in Copenhagen in May where all the Eurovision participants will join her.
Each artist was presented with a postcard, which was shot last week. It involved being cold and standing in water for hours. About half of the participants have been down with flue or throatproblems this week, and the link to the shooting of the postcards last week have been made! Thank God, they all appear to have been cured.
A selfi was made by the hosts during the programme. The hosts was wearing masks of Brad Pitt and Ellen Generes and a lot of the artists appeared behind them.
The male host Jacob Riising has made some pre-corded clips focusing on the three Eurovision victories (1963, 2000 and 2013) where he look into what each of them had, which made helped it towards winning. He talks to the ones involved with the song and also a lyrics analyser. 
As interval act DR this year threw in a nice entertainment for many fans: Rollo & King (Denmark 2001), Kirsten & Søren aka Hot Eyes (Denmark 1984, 1985, 1988) and Birthe Kjær (1989). Earlier in the show host Louise Wolff interviewed Kirsten & Søren and Rollo & King. It is worth noticing that tonight Rollo & King performed without Signe Svendsen who joined them on stage in 2001.    
The voting:
Surviving two rounds of voting, that was what it required to be crowned winner of Dansk Melodi Grand Prix. The first round eleminated 7 of the 10 acts, with only three left for the super-final. In this first round both jury and TV viewers were voting, whereas there was only televoting for the second and final round.
The five jury members were: singer and songwriter Søs Fenger, songwriter and producer Chief1, singer Camilla Jones, international producer Cutfather and Denmark's Mr. Eurovision, former host and commentator Jørgen de Mylius.
Through to the super-final were:
Basim
Michael Rune feat. Natascha Bessez
Rebekka Thornbech
All three finalists performed their entries again – in the order of announcement, which meant Basim first. 
The jury members had in total 30 points to hand out. 1,2 and 3 points per jury member. 
Basim 15 points
Rebekka Thornbech 8 points
Michael Rune feat. Natascha Bessez 7 points
Basim 15
Michael Rune feat. Natascha Bessez 8
Rebekka Thornbech 2
So the winner is Basim – and the host declare him winner of Dansk Melodi Grand Prix 2008!! Where the 2008 came from, we don't know 😉
Denmark at the Eurovision Song Contest: 
The country intended to participate at the first edition of the Eurovision Song Contest in 1956, but the story tells that they were a few days too late and as such had to wait until the year after for its debut. With the song Skibet Skal Sejle I Nat the country however got off with a good start as when they finished third. The song ended with a big kiss and some claims that if it hadn't been for that, Denmark might have won it is debut year. 
Over the years Denmark has won the Eurovision Song Contest a total of three times: In 1963 with Dansevise, in 2000 when Olsen Brothers a bit surprisingly took Europe by storm with their Fly On The Wings Of Love and again in 2013 where Emmelie de Forest was the big favourite right from the national final in January. She remained calm, and lived up to the expectations.
Below you find our winner interview conducted shortly after his victory: