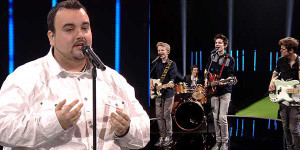 The last of three semi-finals was held last evening with four acts competing for two tickets to the final. Now we know the names of the six acts that will take part in the big final where the Belgian representative at the 2014 Eurovision Song Contest will be chosen.
The third and last semi-final of the Belgian national selection, Eurosong 2014, was held last evening. The show was broadcast live from the Videohouse in Vilvoorde and it was hosted by Peter Van de Veirs and Eve Daeleman.
From the four acts in the competition, only two of them qualified to the big final of the Belgian selection which will be held next Sunday in Antwerp. You can find out more about the participants in our Get to know article.
The qualifiers were chosen by a combination of the votes from the jury and the audience. The jury panel consisted of Ruslana (Ukrainian winner of the 2004 Eurovision Song Contest), Piet Goddaer, Bart Peeters and Jef Martens.
The jury scores were as follows:
1. Nelson – Wild Side – 83 points (92 + 84 + 72 + 85)
2. Axel Hirsoux – Mother – 99 points (98 + 100 + 99 + 100)
3. Tisha Cyrus – Kitty Cat – 68 points (88 + 60 + 50 + 75)
4. Bandits – One – 90 points (97 + 95 + 88 + 78)
As usual, the points from the jury were combined with the televoting results but this time the final result did not change, meaning that Axel Hirsoux and Bandits will join the four acts that qualified at the previous shows.
Thus, the final line-up is as follows (the running order for the final has not yet been determined by the broadcaster):
Eva Jacobs – Nothing Is Impossible
Udo – Hero (In Flanders Fields)
SIL – What's The Time In Tokyo?
Yass – Need You Tonight
Axel Hirsoux – Mother
Bandits – One
You might also like to read: