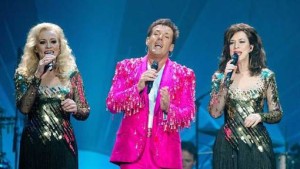 Gerard Joling succeeded where others failed before him, bringing about a Maywood reunion for his sell out Lekker concerts last weekend. The experience of performing together on stage once again clearly gave the sisters a taste for more, judging by their comments to the Dutch press this week.
Duo Maywood fought like cat and dog in the past with frequent highly publicised spats in the Dutch media, but bygones seemed to be bygones when sisters Caren Wood and Alice May stood together on stage in a sold out Ziggo Dome in Amsterdam last weekend. Speculation was rife as to whether the two would be able to patch up their differences and make an appearance at all, keeping everybody on tenterhooks until the last minute. Fans need not have worried however, as Maywood were back where they belonged; they came, they saw, they conquered.
Gerard Joling entertained fans with a three hour show on two consecutive evenings, the 11th and 12th of October. The evening featured an array of hits, with more than just a sprinkling of camp and kitsch and both Gordon and Maywood were an integral part of the event. Of the reunion, Alice commented to Dutch website AD: "The reunion is certainly not going to be a one off. It was obvious that we were back on form, and we'd be crazy not to give it another go." The sisters are even planning on broader horizons, saying "We've now sent e-mails to our contacts abroad announcing that we are available to perform together. We just hope that we haven't been forgotten in places such as Sweden, Norway, Japan, Russia and South Korea."
As mentioned earlier, the prospects of their Ziggo Dome reunion were jepoardised by what appeared to be irreconcilable differences. Alice explained that: "I had such clear plans of how things were to be. Once I had managed to convince Caren of my ideas, things went a whole lot smoother. We are both such different characters but that won't stop us from working together. The hug I got from Caren after the final note was completely sincere, we are so proud that it was such a success."
During the peak of their career, Maywood released albums in an impressive 52 territories before going on to represent the Netherlands at the 1990 Eurovision Song Contest in Zagreb, coming 15th with Ik Wil Alles Met Je Delen. A special double DVD of the Lekker show featuring Gerard, Gordon and Maywood is scheduled for release on the 21st of November. Not only can Gerard Joling have popstar and entertainer on his CV, he can now also add peacemaker to the list.
You might like to read: