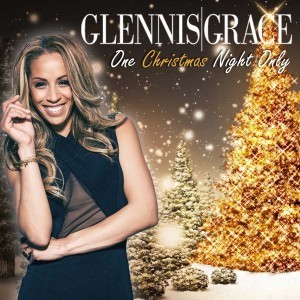 Glennis Grace has over the past few years become something of a household name in the Netherlands. Her album One Night Only quickly became many nights in a row, as the Dutch couldn't get enough of her. The versatile soulstress is hoping to emulate that success with the release of a Christmas album.
It was back in 2011 that Glennis Grace got her real breakthrough with the massive hit Afscheid and the subsequent album and DVD One Night Only which hovered around the upper reaches of the Dutch charts, making her a name on many lips. The success story continued with her next album, This Is My Voice the following year. This year, many fans will be given an extra Christmas present from the star, as she has announced plans to release an album entitled One Christmas Night Only, just in time to make it into many a Christmas stocking.
The album will feature a selection of Glennis' favourite seasonal songs, such as the classic Mariah Carey All I Want For Christmas Is You, Chris Rea's Driving Home For Christmas as well as Wham's Last Christmas, making it the perfect present for any fan. In addition to Christmas classics, the album will also feature some entirely new material. One Christmas Night Only will be promoted through a huge television special, to be recorded in the Noorderkerk church in Amsterdam, where she will perform an array of atmospheric yuletide numbers accompanied by her band. Christmas will also be coming early for a select number of fans who manage to secure seats at the recording of the special, with proceedings kicking of at 19:30 on the 16th of October. Ticket sales opened a week or so ago. The concert will be broadcast on the RTL4 channel on Christmas Eve and will be shown as a repeat on Christmas Day.
But Glennis hasn't only experienced success in terms of album sales – her reputation as a live artist has burgeoned. She was due to perform in a one off concert special, Ladies of Soul at the Ziggo Dome on the 15th of February alongside another Eurovision favourite, Edsilia Rombley as well as Candy Dulfer, Trijntje Oosterhuis and Berget Lewis. Tickets rapidly sold out for the event, and due to a formidable demand, concert promoters saw no other option but to confirm an extra date for the concert, the 14th of February.
Glennis' latest album is scheduled for release on the 15th of November.
You might also like to read: