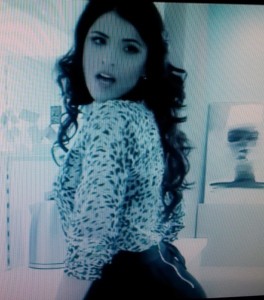 Dorina has released her new song and video. It is called Edhe nje nate (Even One Night) and it is an uptempo dance song that is set to hit the dance floors of Albania. Dorina took part in the 2009 Festivali i Këngës with Një Fjalë Të Ngrohtë. Dorina's sister, Ervisa Toci, is also back with her new song, Me ty, at Top Fest 11.
Dorina is no stranger to the Eurovision stage as she was a backing vocalist with Kejsi Tola in Moscow for Carry Me In Your Dreams. She then made her own solo attempt to enter Eurovision in 2009 where she participated in the Festivali i Këngës with her song Një Fjalë Të Ngrohtë.
Dorina has since participated in several music festivals in Albania including Top Fest. She released a popular song and video in 2012 called Ne zemer te mbaj that received much acclaim in her homeland.
Now Dorina returns with her new single and video. It is called Edhe nje nate and it is an upbeat song with a positive production and vibe. The video is directed by Jakov Stefani and is a SWART Production. The video is shot in several locations and Dorina even tries rock climbing.
Dorina's sister, Ervisa, has just released her new single. It is featured in the 2014 Top Fest 11 competition. The song is called Me ty (With You). The song is composed by Joniad Banushi. It is an upbeat song and is also set to be a big summer hit in Albania making it a great double for the talented sisters.
You can learn more about Dorina at her official Facebook page and you can see the video for Edhe nje nate below. You can also see Ervisa perform Me ty.
You may also like to read –