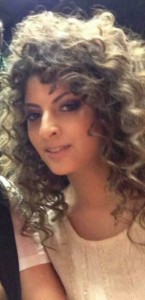 Ervisa Toci has released her debut song and has participated with Mos me zgjo (Do not wake me up) at the Top Fest 10 festival in Albania.  The song is composed and produced by Joniad Banushi who has contributed songs for Festivali i Këngës and other festivals.
Ervisa is a rising star in Albania and her first official release is very popular in the Top Fest 10 festival.  The festival is one of the biggest competitions in Albania along with the Eurovision selection, Festivali i Këngës.  The song Mos me zgjo is an upbeat dance song that has the prospects of being a big summer hit in Albania and and the Balkans.
Ervisa is also a talented musician and plays the piano and is writing music.  Her sister Dorina Plaku has participated in the 2009 Festivali i Këngës with the song Një fjalë të ngrohtë and was on the Eurovision stage as a backing vocalist with Kejsi Tola in Moscow, for Carry Me In Your Dreams.
As soon as possible Ervisa will try for  Festivali i Këngës and she hopes one day to represent her country at the Eurovision Song Contest.  A song with the style of Mos me zgjo would be perfect for the Eurovision stage.
You can see Ervisa perform her song below at the Top Fest 10.
You may also like to read –