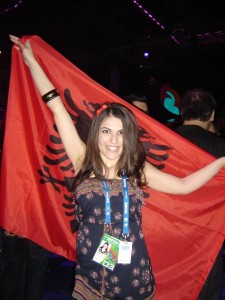 Dorina Toci, who was a backing singer with Kejsi Tola in Moscow, will try for Albania in the Eurovision Song Contest in her own right next time. Dorina will participate in the newcomers section of the Festival i Këngës with the song Një Fjalë Të Ngrohtë.
Dorina is a classically trained singer and can sing classical and pop. She is well known in Albania and appears on tv and at festivals regularly. Her breakthrough came in 2004 when she participated in a national televised song contest called Top Fest. She was nominated as best new young artist. It was at this competition that she became well known in the country and became a hit. She released a CD and DVD and this was sold widely in Albania and abroad. She participated again in Top Fest in 2005 and her song was a candidate for the "best song" prize. Then in 2006, Dorina prepared her first classical recital music concert which received great reviews in the media and the public.
In 2007, she participated again in Top Fest where her song was received very well. In the same year she got to participate as a professional classical singer at the National Theatre of Opera and Ballet, where she was assigned significant roles in several major productions held by theatre. Dorina was received very well for her performances in each of her roles by the sell out audience each time.
Dorina again took part in the Top Fest in 2008. This time she gave acclaimed performances for contemporary and classical music. However, her vision for the future is much broader because Dorina imagines herself expanding her singing experience not only in the Albanian scene, but also abroad. Her participation in Eurovision with Kejsi Tola, was an important experience for her in terms of exposing herself to a global audience and gaining a better understanding of the trends and challenges of performing for such a wider audience. We wish Dorina good luck at the Festivali i Këngës .
Since our recent article about the Festivali i Këngës there have been some minor changes to the line up. There will now be 18 songs in the new talents section. Jorida Zaimaj has withdrawn her song. In the final Besa Kokëdhima has withdrawn and is replaced by Rona Nishliu with the song Kalorësi I Dashurisë. Eliza Hoxha has also withdrawn and has not been replaced. The Festivali i Këngës will take place over 24, 25, 26 and 27 December.