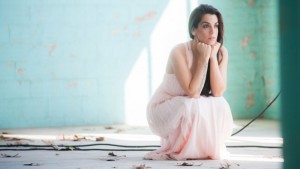 The Spanish broadcaster has released the official video clip of Dancing In The Rain, which is also the final version of the song with lyrics that are quite different from what we heard in the national final including more verses in the English language.
The lyrics of the Spanish 2014 Eurovision Song Contest entry speaks about the need to move on, no matter what happens, you must always look for the positive side of everything. And this is the message of the video which begins with an intimate atmosphere with several close-ups through which Ruth Lorenzo is presented. And, how could it be otherwise, water is the main element of the video clip.
It was recorded on the 8th of March in the former factory of Fabra i Coats in Barcelona, a spinning mill of the nineteenth century. It is a large and bright place with large windows and a desolate aspect which recreates a unique and original visual environment. Paloma Zapata, director of the video said that they "looked for a setting which conveyed the sense of unease, an almost dilapidated place. We wanted to do something very visual, artistic and experiment with images far from stereotypes".
Ruth stated that shooting the video was quite difficult because "it was too cold, I fell several times, I was hoarse… and as I do not like easy things, I always complicate it all a bit more. But the result is worth it". The dancer who accompanies Ruth is the Italian Giuseppe Di Bella and the choreography was created by Miryam Benedicted.
Moreover, in the video, Ruth sings the final version of her song, the one that she will be performing in the final of the Eurovision Song Contest on the 10th of May in Copenhagen. It is a bilingual version, but the English language predominates. This decision was quite controversial in the past days when the director of the Royal Academy of the Spanish language sent a letter to the director of TVE expressing his disagreement with the fact that the lyrics of the song which will represent Spain at the Eurovision Song Contest has such a big part in English. Actually, Ruth's manager, Dani Valls, stated that the song was originally written in English but Ruth herself adapted some of the verses to the Spanish language just for the national selection.
You can see the official video of Dancing In The Rain below.
You might also like to read: