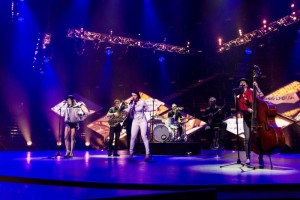 8 participating acts, 16 songs, but only 12 to be heard and a very complicated voting procedure that was what Germany offered tonight in Unser Song für Dänemark. The show that featured Emmelie de Forest and Emma Marrone as guest performers ended with Elaiza given a ticket to Denmark.
Germany was the last of the automatically qualified Eurovision finalists to pick their entry for the 2014 Eurovision Song Contest in Denmark. The show, Unser Song für Dänemark, consisted of two rounds – and a total of 16 songs.  

The songs in the 1st round (You can read more about the participants in our get to know article):
01. Das Gezeichnete Ich – Weil Du da bist
The first artist was sitting at a piano hidden in a glass before he stands up to perform the rest of the song. It is a pop song which is easy to sing along to and is performed with a lot of confidence. With him on stage was two backing singers and three musicians. He was relaxed dresed in jeans and a white shirt hanging lose.  A good start to this national selection.
02. Oceana – Thank You
Dressed in a white body stocking kind of thing added chains, a long open cardigan and long boots Oceana certainly catches some attention. This song has influences from many genres and is difficult to sing along to. She has also three muscians and two backing singers behind her. Well performed, but the most memerable is her clothes.  
03. Santiano – The Fiddler on the Deck
This Irish sounding folk/pop song will sound familiar to many, in particular football fans. The chorus appears to be a simple rip off from Staus Quo's Burning Bridges, which was used for Manchester United under the title Come On You Reds. With the two songs being so similar it rather gives itself that this one also is easy to sing a long to. This performance certainly stands out as they are placed in a gigantic boat on stage. It is clear to see that they are enjoying themselves. Should they win they will have a short travel as they live close to the German/ Danish border.  
04. MarieMarie – Cotton Candy Hurricane
Here we have a pop song of the more quiet type. It is nice enough without being anything special when you listen to it, but unfortunately you start to drift off before you are half way into the song – and when it ends, you can't remember what it is you just heard. She start out playing the harpe and is supported by three musicans and two backing singers which appears to be rather standard tonight. She is dressed in a black and silver t-shirt and a light skirt and starts to move around a jump a bit in the second half of the song.   
05. The Baseballs – Mo Hotta Mo Betta
A Rockabilly sound at Eurovision. That is what we get if the Germans vote this one to Copenhagen. It will not be everyone's taste, but it is fresh, fun and energetic and it makes you want to dance. It is in English and quite easy to get into your head. Their hair styles and their outfits fits with the '50's theme of this song. Fire appeared on stage on one of the walls with old carpet used for this performance, later two of them were burning and later again all three and then they piano cought fire as well. This is certainly a performance that stands out and is easy to remember.
06. Elaiza – Is It Right
This female trio won a televised club concert held to pick one act for tonight. They have a drummer behind them as support and two of the band members are playing instruments themselves, accordion and contrabass. It is an interesting song with a pop chorus, but is mainly kept within the folk music style though in parts it reminds a bit of Malta's 2002 entry. The leadsinger moves around a bit, but it is a very static performance. Fireworks are used near the end of the song. Very interesting song which should not be ruled out at all as it is easy to remember.
07- Unheilig – Als wär's das erste Mal
We continue with a song in German. It is a bit on the dark gothic side this one, but absolutely it will have some fans. The main singer is dressed in a long black jacket, black trousers, a white shirt with a black tie. He also has three musicians and two backing singers to support him. Throughout the entire song smoke appears on stage and there are an uncountable number of big candle lights used on stage as well.  
08. Madeline Juno – Like Lovers Do
And here we are at the last of the songs in the first round. There is a lot reminding of Lena Meyer-Landrut here, it counts both for looks, song style and a voice a bit in the same direction, without completely being there. She is dressed in a short black dress and has one guitar player and three drummers behind her. She sings really well, but from time to time it appears like she loses her self confidence. A solid performance though. 
The songs in the 2nd round:
All the 8 acts had prepared and rehearsed a second song, but only four of them would get to perform it. These were the four that wasn't eliminated already after round 1. 
1. Santiano – Wir Werden Niemals Untergeh'n

They once again had their boat with them on stage, but this time there was no immidiately football song it sounded like. This second song of theirs isn't nearly as catchy as the first one. Smoke in plenty is used on this performance where the stage is all blue like the ocean. They end with shouting a ship ahoy. 
2. MarieMarie – Candy Jar

The harpe is back with her on stage for this second song of hers. It sounds a lot stronger than her first song and her beautiful voice really shines through here. She moves around on stage from time to time, but returns to the harpe again – except for the end. A very strong performance and this time with a song more rememberable. 
3. Elaiza – Fight Against Myself

This song is in the same style as their first song, but it doesn't appear as strong. From time to time it has interesting moments which catches your attention, but it is like it is trying to be something which it can't live up to. It doesn't quite suit them either that all three band members are all dressed in white though, but it gets a gigantic applause from the audience. 
4. Unheilig – Wir Sind Alle Eins

Second song from Unheilig is presented as being written especially for the Eurovision Song Contest. It is once again in German and he is dressed in the same outfit from the first performance. The smoke and the many candle lights are re-used again also. It is very catchy and comes across stronger than his first song, in fact it might be the strongest song we have heard from the participants tonight. This could win Eurovision, so let's see if the Germans pick wisely.  
The show: 
Unser Song für Dänemark kicked off at 20:30, live from Cologne. It was originally scheduled for 15 minutes earlier, but delayed due to a special programme about the president of Bayern München, one of Germany's biggest and most famous football clubs, who was convicted for tax froud and sentenced to jail earlier. 
The German national final was presented by Barbara Schöneberger. In Greenroom we had Janin Reinhardt reporting.
Just like in the recently held Danish final, Dansk Melodi Grand Prix, reigning Eurovision winner Emmelie de Forest opened the show with her winning entry which brought the contest to Denmark, Only Teardrops, and later, after the first round, she returned to perform Rainmaker. That is the song which is chosen as official theme for this year's Eurovision Song Contest. In the Danish final she was joined by the participants for that song as she will also be for Eurovision, but that didn't happen here in Germany tonight. It was however a very confident Emmelie smiling all the time we saw tonight. She has grown a lot as a performer in just one year looking more and more like a superstar, something we in particular saw during Only Teadrops tonight. 
German singer Adel Tawil also performed in tonight's German final that also featured Italian Emma Marrone performing her 2014 entry La Mia Città giving the German population a chance to see what they will be up against in Copenhagen in May. 
Each of the eight participants were presented with a video where they show their lives and tell about themselves and their songs. A short video from the Danish capital, Copenhagen, was shown before the first recap of the eight songs in the first round and repeated again before the re-cap after the second round. This re-cap included both songs from each of the four acts left.
At some point the host started singing the German 1982 Eurovision Song winning song Ein bißchen Frieden, but was interrupted as the bell rang indicating that the voting window for first round closed. Later she sang a bit from ABBA's 1974 winner Waterloo and also Satelite (Germany 2010) joined by some fans in the audience.
Jon Ola Sand, Executive Supervisor of the Eurovision Song Contest and two members of the reference group, Christer Björkman (who also represented Sweden in 1992) and Nicola Caligiori was interviewed shortly by the host, who tried to sing a bit in Italian.   

The voting:
Different countries have different voting systems, but Germany probably takes the prize for the most complicated one. A total of 8 acts participating with two songs each, but out of the 16 songs we only got to hear 12 of them:
All 8 acts performed with one of their songs in the first round. A voting took place eliminating four of them. These four acts now had to perform again, but this time with their second song. After these performances it was time for yet another voting which ended up with two super finalists left in the competition with one of their songs. These two were:
Elaiza with the song Is It Right and Unheilig with the song Wir Sind Alle Eins
Both acts had to perform again with these songs and then it was time to decide which of these would be representing Germany at the 2014 Eurovision Song Contest. The lucky one was announced with both acts being on stage and ended up being Elaiza! 
Germany at the Eurovision Song Contest: 
When the Eurovision Song Contest started up in 1956, Germany was among these very first countries. As a part of big5 the country would automatically be qualified for the final every year when that was introduced, and therefore don't face missing out anymore as was the case in 1996.
Germany has won the contest twice: First time in 1982 where Nicole and her oversized guitar quonquered Europe with her peace song Ein bißchen Frieden. The song was recorded in lots of languages, including some unusual ones like Russia, Dutch and Danish proving that Nicole certainly had a flair for languages. In 2010 came their second victory as Lena Meyer-Landrut with a distinct voice charmed Europe with the song Satelite.
Over the years we have seen Germany being all over the scoreboard. In the past ten years they have four times made top10, another 5 years bottom5 and one time fairly in the middle with a 14th place out of 24 participants.
You might also like to read: