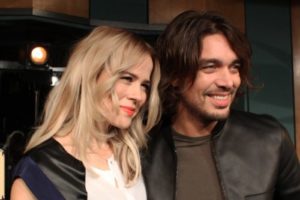 Finally the moment many Dutch fans had been waiting for arrived – the duo The Common Linnets performed their entry for Copenhagen Calm Before The Storm for the first time live together on the talk show De Wereld Draait Door tonight. Reports of the song being leaked earlier this morning on the radio channel 3FM were denied by broadcaster TROS today.
It would seem that duo Ilse de Lange and Waylon are hot property in the Netherlands at the moment. So much so, that it led DJ Giel Beelen claiming to have played their forthcoming entry for Copenhagen during his show on the radio station 3FM ahead of tonight's exclusive. Broadcaster TROS were quick off the mark to deny that this was in fact their entry, and so expectant fans made their way to the studios where the talkshow De Wereld Draait Door is filmed in Amsterdam tonight to witness the first live performance of the duos entry.
Information surrounding the Dutch entry appeared on the 4th of March, confirming that the title of the entry The Common Linnets will be performing in May will be Calm After The Storm. It is said that the track has been produced in country music capital Nashville; a nice coincidence, as it was there that singer Waylon was supposed to record a country album back in 1997. 
The album, to be released through record label EMI never realised. Waylon tried his hand at representing the Netherlands at Eurovision back in 2005 together with Rachel Kramer and the entry Leven als een beest (Living like an animal) but failed to make it past the preliminary rounds. He would first become a household name in the Netherlands in 2008, when participating in the TV talent show Holland's Got Talent. Two albums and nine singles later, Willem Bijkerk, which is his real name, has never looked back.
Ilse de Lange has been around considerably longer than her Eurovision partner Waylon. She has been musically active since 1985, but first rose to prominence in 1998 with the release of her debut album World of Hurt, earning her a five times platinum sales award. Seven of her subsequent twelve albums, including The Great Escape, Incredible and Next to Me have also sold to platinum or higher. She has also won the Edison award for best female singer an impressive four times, so combined they have a first class pedigree.  
Their entry Calm Before the Storm was performed in a stripped down acoustic version tonight in the show De Wereld Draait Door, with the Eurovision version of their song to be aired tomorrow during the radio programme Gouden Uren. The song is to be released as a single on Friday, the 14th of March. Do you think the pair are a worthy successor to last year's Dutch finalist Anouk with her haunting entry Birds? Judge for yourselves and see their performance of the entry below.
You might also like to read: