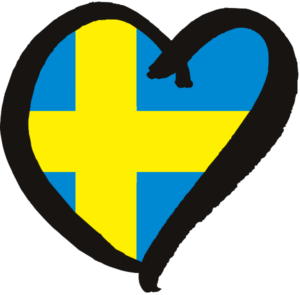 800.000 fewer viewers and 450.000 less votes than 2013 are the dark numbers of Melodifestivalen 2014. On the Tuesday SVT also released the full voting figures for all the heats and the numbers reveals that Ace Wilder was actually close to miss the final.
A total of 3 302 000 viewers watched Sanna Nielsen prevail over Ace Wilder and the other contestants of Melodifestivalen 2014 last Saturday. This is a number which will make it one of the most watched TV programs of the year in Sweden when 2014 is summarized. But the fact is that the number of viewers in the final was less than in the first heat which had 3 364 000 viewers.
And when the numbers are compared with those of the final in 2013, which had 4 129 000, it becomes even more clear that 2014 was a disappointing year for SVT. In fact the nubmer of viewers of the final is the lowst since SVT introduced the system with heats leading up to a final.
The presenters sense of humour and the content of the shows which has been criticised by both viewers and media could be the reason to the low figures. But despite the loss of viewers, Melodifestivalen remains as one of the most watched television broadcasts of the year.
The full voting figures from the heats were also announced on the Tuesday. What is maybe most remarkable is the tight results in heat 3 and Ace Wilders progress in the competition. In heat 3 in Gothenburg Ace received 5 157 votes less than State of Drama in the first voting round which meant a 3rd place (the five best songs advanced to round two). In round two she received enough votes to pass State of Drama up to a second place but 861 votes was all that was between them when the lines were closed. And the fifth placed song from the heat with Dr. Alban feat. Jessica Folcker got 37.730 votes which was not that far away from Ace's 43.704, yet it meant that the duo would not get a second chance to advance to the final in Lidköpng. The songs popularity continued to rise after this and was the song in the final that was highest on Spotify and the download charts the days before the final.
The viewing figures of the final, 2002-2014
2002              3 720 000 viewers – 926 000 votes
2003              3 813 000 viewers – 1 230 751 votes
2004              4 105 000 viewers – 1 401 430 votes
2005              4 054 000 viewers – 1 519 997 votes
2006              4 242 000 viewers – 1 913 152 votes (Carola winning)
2007              3 976 000 viewers – 2 072 918 votes
2008              4 046 000 viewers – 2 410 200 votes (Charlotte Perrelli winning)
2009              3 592 000 viewers – 1 748 970 votes
2010              3 870 000 viewers – 1 754 904 votes
2011              3 667 000 viewers – 1 326 222 votes
2012              4 110 000 viewers – 2 053 432 votes
2013              4 129 000 viewers – 1 644 628 votes
2014              3 302 000 viewers – 1 192 360 votes
The voting figures of the heats and the final
First heat in Malmö (Votes in the first round, second round and toalt nubmer of votes of both rounds in brackets)
1. YOHIO – To The End (55 826 – 61 393 – 117.219)
2. Ellen Benediktson – Songbird (43 619 – 55 825 – 99 444)
—
3. Helena Paparizou – Survivor (32 141 – 38 297 – 70 438)
4. Linus Svenning – Bröder (29 464 – 31 268 – 60 732)
—
5. Elisa Lindström – Casanova (18 143 – 19 171 – 37 314)
—
6. Alvaro Estrella – Bedroom (14 386)
7. Mahan Moin – Aleho (6 943)
8. Sylvester Schlegel – Bygdens son (5 934)
Second heat in Linköping
1. Sanna Nielsen – Undo (52 542 – 57 050 – 109 592)
2. Panetoz – Efter solsken (25 986 – 31 415 – 57 401)
—
3. Martin Stenmarck – När änglarna går hem (20 981 – 30 916 – 51 897)
4. J.E.M – Love Trigger (18 790 – 26 872 – 45 662)
—
5. The Refreshments – Hallelujah (18 417 – 19 234 – 37 651)
—
6. Little Great Things – Set yourself Free (15 183)
7. Pink Pistols – I Am Somebody (11 435)                                                    
8. Manda – Glow (10 964)
Third heat in Gothenburg
1. Oscar Zia – Yes We Can (29 790 – 30 945 – 60 735)
2. Ace Wilder – Busy Doin' Nothin' (19 105 – 24 599 – 43 704)
—
3. State of Drama – All We Are (24 262 – 18 581 – 42 843)
4. Outtrigger – Echo (18 713 – 19 873 – 38 586)
—
5. Dr. Alban feat. Jessica Folcker – Around the World (18 041 – 19 689 – 37 730)
6. Shirley Clamp – Burning Alive (12 617)
7. CajsaStina Åkerström – En enkel sång (10 789)
8. Eko – Red (9 053)
Fourth heat in Örnsköldsvik
1. Alcazar – Blame It On The Disco (42 061 – 55 392 – 97 453)
2. Anton Ewald – Natural (39 105 – 32 570 – 71 675)
—
3. Ellinore Holmer – En himmelsk sång (21 411 – 24 465 – 45 876)
4. Ammotrack – Raise Your Hands (20 425 – 21 202 – 41 627)
—
5. Linda Bengtzing – Ta mig (15 239 – 15 861 – 31 100)
6. I.D.A – Fight Me If You Dare (10 578)                                                   
7. Josef Johansson – Hela natten (9 953)
8. Janet Leon – Hollow (8 307)
The Second chance heat in Lidköping
1. Linus Svenning – Bröder (45 657 – 49 295 – 94 952)
2. Helena Paparizou – Survivor (47 161 – 44 411 – 91 572)
3. Outtriger – Echo (33 876 – 27 083 – 60 959)
4. Martin Stenmarck – När änglarna går hem (30 681 – 26 366 – 57 047)
—
5. State Of Drama – All We Are (29 352 – 22 150 – 51502
—
6. J.E.M – Love Trigger (28 626)
7. Ellinore Holmer – En himmelsk sång (17 685)
8. Ammotrack – Raise Your Hands (16 998)
Duel 1
Outtrigger – Echo (51 627)
Helena Paparizou – Survivor (123 859)
Duel 2
Linus Svenning – Bröder (77 706)
Martin Stenmarck – När änglarna går hem (71 844)

The final in Solna, Stockholm
1. Sanna Nielsen – Undo (307 788)
2. Ace Wilder – Busy Doin' Nothin' (283 831)
3. Alcazar – Blame It On The Disco (120 654)
4. YOHIO – To The End (109 363)
5. Linus Svenning – Bröder (93 974)
6. Ellen Benediktson – Songbird (75 748)
7. Helena Paparizou – Survivor (67 336)
8. Oscar Zia – Yes We Can (52 844)
9. Panetoz – Efter solsken (45 614)
10. Anton Ewald – Natural  (35 208)
You might also like to read: