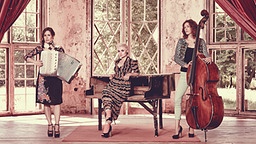 Tonight the first round of this year's German selection, the so called wild card round took place in Hamburg. Ten acts competed for the eighth spot in the German final. The TV spectators decided that Elaiza will complete the line up for the German national final Unser Song für Dänemark which will be held on March 13th.
The line up for the German final Unser Song für Dänemark is finally completed. Tonight ten newcomer acts performed at a cosy club concert in Hamburg. They could choose if they wanted to perform a cover version or a self-written song. You can read more about the participants in our Get-to-know-article.
The songs:
1) Elaiza – Is it right?
The show's opener is the German-Ukrainian female trio Elaiza. They perform their own song Is it right? which is not only sung live, but also played live by themselves with the accorderon and the bass. During the first chorus the live band sets in who will accompany all of tonight's artists.
Is it right? is slow, but very rhythmic and harmonic folk style reminding a bit of Ukrainian folk and Jewish Klezmer music. The whole performance is professional and Elaiza earn a big applause.
2) Nicole Milik – I see fire
Next on stage is young Nicole Milik who performs a cover version of Ed Sheeran's song I see fire. Nicole accompanies herself on the guitar sitting on a chair which fits of course very well to the atmosphere of a club concert. Her voice sounds powerful with soul in it. Nicole has her own YouTube-channel with more than 87.000 subscribers.
3) Simon Glöde – Blame it on the boogie
Simon performs his self-written song Blame it on the boogie which is a midtempo song with some rock elements in it. His performance is very charismatic reminding a bit of Renars Kaupers from Brainstorm. Note: If Simon is the lucky one to win tonight's competition he will not be able to perform this song as it was already released in August 2013.
4) Melanie Schlüter – Run
Melanie started singing at a very early age and has sung in a total of five children choirs. During her introduction film she points out how much she loves the Eurovision Song Contest. Tonight she performs a cover version of Leona Lewis' hit Run. Melanie seems to be very nervous as she looks quite stressed into the camera and does not hit all notes of this challenging song.
5) Cassie Greene – Not this time
Next up is Cassie Greene who might have some home advantage as she is from Hamburg. She performs her own song Not this time which is a tribute to Hamburg harbour. The intro reminds a bit of Avicii's Wake me up. Starting midtempo the song turns into uptempo during the chorus. Especially during the chorus the song is country style and Cassie delivers a confident performance of this catchy entry.
6) Valentina – Love is gone
Valentina is an educated speech therapist and reminds optically a bit of Lena. She performs her own song Love is gone which is a ballad. Her voice sounds very clear, but she does not manage to hit all the notes.
7) Caroline Rose – Amber sky
Caroline Rose usually prefers death metal music, but tonight she performs the song Amber sky which is RnB-Style with blues elements. Caroline who accompanies herself on the e-guitar has a very powerful and smoky voice which fits very well to this kind of song. Optically she is styled a bit like Amy Winehouse.
8) Max Krumm – Home
Next on stage is Max Krumm who also performs a self-written song that he dedicated to his best friend who went abroad for one year. The song starts slowly, but turns into midtempo with a nice and catchy beat. Max who also plays the guitar has already gained lots of musical experience and so is his performance.
9) Ambre Vallet – Siehst du mich?
Ambre Vallet is the youngest of tonight's artists. Like the other acts before she also decided to sing a self-written song, the only one in German language. She accompanies herself on the guitar as well. Siehst du mich? is a very quiet ballad performed very well by this young girl.
10) Bartosz – Walk away
Bartosz complete tonight's line up. The band consists of five male musicians. Of course Walk away is a self-written song as well, a very quiet and melodic ballad with a slightly repetitivce chorus. Unfortunately the lead singer has some problems hitting the higher notes in the verses of the song.
The show:
The concert started at 22:10 CET and was presented by Barbara Schöneberger who will also be the host of the German final and led through the show in a very entertaining way. After the song presentation there was a short reprise of all participating acts including the phone numbers. As interval act Roman Lob performed who represented Germany at the 2012 Eurovision Song Contest in Baku finishing 8th. He sang a short medley consisting of his Eurovision entry Standing still and his new single All that members.
The results:
It was up to the TV viewers to decide which act will proceed to the German final. They could either vote by phone call or sms. After a switching to the green room and a short interview with Adel Tawil, the mentor of this wild card round, Barbara Schöneberger finally revealed the results.
1. Elaiza
2. Caroline Rose
3. Bartosz
4. Max Krumm
5. Nicole Milik
So Elaiza will be the 8th competitor for Unser Song für Dänemark which will be held in Cologne on March 13th. The two songs that the trio will perform there are yet to be announced. It is not sure if they will perform tonight's entry Is it right?. 
These are the other seven acts for Unser Song für Dänemark (in alphabetical order):
Das Gezeichnete Ich
Madeline Juno
MarieMarie
Oceana
Santiano
The Baseballs
Unheilig 
You might also like to read:
Voting scandal causes urgent rule change in Melodifestivalen
Municipality of Copenhagen finds extra money needed for Eurovision Song Contest
Pole position for Poland with Slavic Girls?