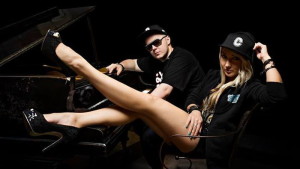 Poland hasn't been represented on a Eurovision stage for two years, the last time ending in major disappointment for Magdalena Tul with her entry Jestem. Broadcaster TVP suprised and delighted many with the announcement of their return this year, and what a return!
Since the announcement of their return after a two year absence, speculation has been rife as to just who will do the honours for Poland this year. On various fan fora, there have been a number of suggestions and rumours, the strongest one at one point was that of Edyta Górniak making a Copenhagen comeback. It would have been very befitting, celebrating the 20th anniversary of Poland's debut at the contest, when Edyta thrilled and dumbfounded many with the performance of her career, and earning Poland a second placing with To Nie Ja! – not bad at all for a debut. All hearsay came to an abrupt halt however, when the star publicly any intention to represent Poland this year.
Then a video surfaced on Youtube. A video that had gone viral, garnering more than 38 million views. The song, titled My Słowianie (Us Slavs) was a massive hit in Poland at the end of last year. But not without controversy, due to the rather racy music video accompanying the song. Since its debut in 1994, Poland has rarely bothered the top ten with its entries, but TVP are hoping that their return this year will have something of an impact.
Confirmation by the rapper Donatan and sidekick Cleo that they were in negotitations with TVP on their social media pages sent fans into a spin. Such is the popularity of their song, that an English language version of My Słowianie has been recorded, Slavic Girls. Prior to an official announcement to be made by TVP tonight at 18:30 CET, Donatan broke the news on his Facebook page, finally confirming the rumour that the duo will be flying the flag for Poland in Copenhagen. They hope that the rest of Europe will fall under the spell of the Slavic girls just like Poland has, stating that their participation was "A call to arms. With such an honourable offer to represent Poland at the contest, we couldn't refuse…we're counting on your support!" Judge for yourselves if their entry lives up to all of the hype, by watching their tongue in cheek video below, available in both the English and Polish versions. Welcome back Poland, you've been sorely missed!