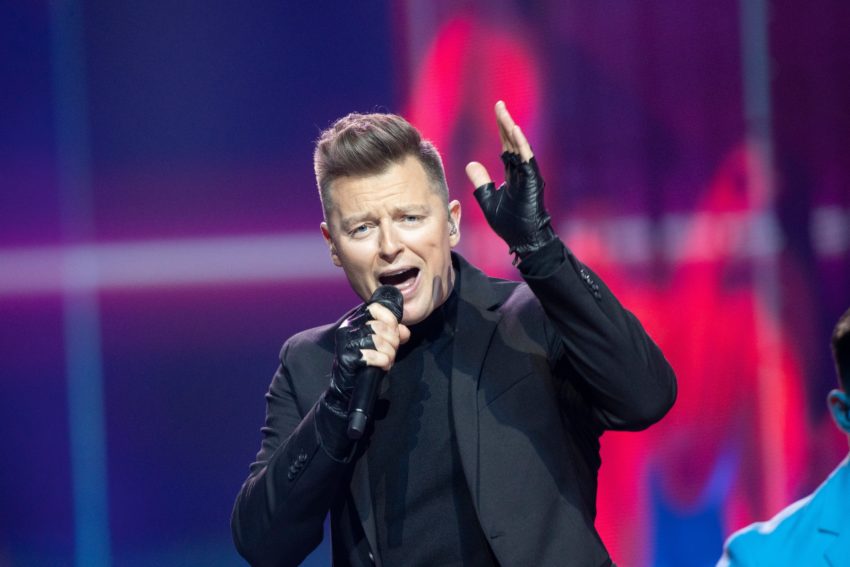 Rafał represented Poland at the 2021 Eurovision Song Contest. An injury forced him to stop his wrestling career, and instead music took over. 'Tak Blisko' became an award-winning big hit for him in 2012. 
In the summer 2012, Rafał Brzozowski released his first ever studio album. The album was titled 'Tak Blisko', and it includes 11 songs. The title song was first one on the album, and it also became quite a big hit in Poland. The Tak Blisko song became a big radio hit, and earned him an award at the Eska Music Awards.
In Tak Blisoko, Rafał sings about waiting for the one he loves. He keeps saying to her, he can wait, that he can give her more time, and when she is ready too, she should just him know. The song is written by Marek Kościkiewicz, who also wrote the Polish 2017 Junior Eurovision entry.
Tak Blisko – opinions from fans
In order to find out what Eurovision fans today think of this song from Rafał Brzozowski, we asked our Eurovision Fan Panel. It includes team members as well as fans from all over the world.
🇵🇱 🇬🇧 Pawel J. – To be honest that's the kind of easy pop music I like to listen to quite often. Tak Blisko (So close) is a love song where Rafal sings how much he is longing to be with the one he's in love with. I really do like the song. It brings lots of positivity and hope, and tells you to always fight for the one you love.
🇩🇰 Charlotte J. – I really loved his Eurovision entry The Ride. That was the song, I voted for in the second semi-final. Unfortunately, not so many others did. It wasn't until now that I had the chance to check out his musical catalogue. While I am not a fan of everything, I spot several other songs, which I love – and Tak Blisko is one of them. Rafał has a really nice voice, and this song has a lovely guitar all over it, which keeps my attentional high throughout the song. It doesn't hurt either than he is really good-looking… back in 2012, when this song was released, and still is. Rafał was my Eurovision 2021 crush, and while checking up on old releases from him, I am looking forward to what the future brings from him.
🇮🇪 🇦🇺 Vivienne F. – What a lovely song! I like the guitar drumming, and the whistling, it has a nice quick constant rhythm, then the violins enter, a melodic chorus, a nice happy radio-friendly driving along in my car song.
🇹🇷 Gunec G. – I really like this feel good mid-tempo tune from 9 years ago. Rafal is much younger, and very handsome. He has a strong voice.
🇵🇹 Linete A. – Even though I don't understand the lyrics, I actually like the song and his voice is quite good. The instrumental part is quite good too, and it's a very happy song. Nice to listen to and I enjoyed it.
🇳🇱 🇩🇰 Wouter V. – And now for something completely different from his Eurovision song. I appreciate that we get to hear that he actually has quite a good voice, that didn't really shine through so clearly on The Ride. It's a pity the song is so boring though…
🇬🇧 Michael O. – Rafal seems to be much more in his lane, with this type of song, than he is with retro eighties. In fact, this is not too bad at all. Whether I'd play it a lot I'm not too sure, but this would be a fine enough track on a Rafal album.
🇨🇿 Josef S. – Taking into consideration that Tak Blisko is from 2012, it is not bad song at all. The melody is pretty nice and catchy, and in this case, Rafał is in tune (at least in the music video / studio version) unlike his Eurovision 2021 performance. What is Rafał's strength is for sure the Polish language. Maybe he feels more comfortable in his native language than English. It's no surprise that this is his biggest hit so far.
🇳🇱 Vica K. – This is more his kind of song. His voice is better, and I prefer this one over The Ride. But I wouldn't listen to is more than once.
Enjoy Rafał's Tak Blisko in the embedded video. Below the video, you can read more about him.
Rafał Brzozowski – a mini biography
After playing in a few smaller bands in Poland, Rafał took part in the talent show 'The Voice of Poland' in 2011. He was eliminated just before the final, but for him, it was the beginning of a solo career.
In 2012, he released several singles and his first studio album Tak Blisko. The single carrying the same title as the album became a top hit in Poland. Furthermore, it earned Rafał an award the same summer. Several other album and single releases followed. Several of them reached the Polish charts and also sold quite well.
There's more than just music to Rafal Brzozowski. His father was a wrestler, and Rafal took up that sport too. Unfortunately, an injury forced him to stop. However, in 2015 his passion for sports was combined with entertainment when he took part in Poland's 'Dancing with the Stars'. By now, he is also a well known TV host in Poland, and in 2020, he earned an award as 'Television personality'. The same year, he also hosted the Junior Eurovision Song Contest, which was held in Warsaw, Poland.
Rafal Brzozowski took part in the Polish national final, Krajowe Eliminacje 2017. He finished in second place with the song Sky Over Europe. Four years later, he was internally selected to represent Poland at the Eurovision Song Contest. Unfortunately, his entry The Ride didn't qualify for the final of the contest.