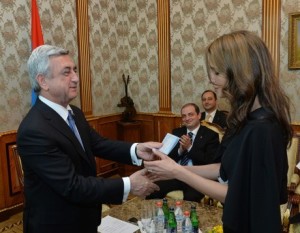 All members of the group Genealogy representing Armenia at the 2015 Eurovision Song Contest have now been granted an Armenian passport. The passport was handed to them by the president himself as an encouragement before they are heading to Vienna.
The bandmembers in Genealogy are spread all over the world, but all of them have Armenian roots, and this has now resulted in them all being granted an Armenian passport. The passports were handed to them at a surprise meeting with the Armenian president Serzh Sargsyan. He said:
"If we are all gathered around one goal we will always succeed. I am sure, you will accomplish because you are united and you are sharing one goal. Your song is incredible and the concept as well".
The members of the group individually receieved their Armenian passport and assured the president that this will give them new strength and keep their spirit up.
You can read more about the band members and their background in our series of articles:
Armenia will compete in the first semi-final with the song Face The Shadow. The song was first titled Don't Deny, but too avoid speculations of it being too political, they changed it. You can see the video to the song below.