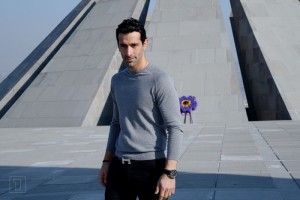 Today the Armenian broadcaster revealed the first of the six artist in their Genealogy project which will represent them on stage in Vienna at this year's Eurovision Song Contest. First up is Essaï Altounian who is the European part in this project with artists spread all over the world.
Essaï Altounian is a 34 year old French Armenian singer and songwriter who also plays keyboard and works as an actor. He grow up in France where his grandparents escaped to after what is consider the Armenian Genocide. His grandfather wrote a book about it to make sure the coming generation would know about it, and Essaï himself has also previously written a song titled Je n'oublie pas / ChemMorana which was dedicated to the victims.
The Genealogy project from Armenia will include singers from Europe, Armerica, Africa and Australia who all share the story that their families were spread all over the world during the genocide, which isn't recognised as such by Turkey and Azerbaijan.
On the 20th of February the second member of Genealogy will be presented.
You might also like to read: 
Armenian entry heavily discussed before it is released