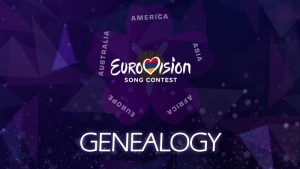 The song isn't released yet, but the idea behind the Armenian entry which was presented yesterday is already being heavily discussed. It refers to the Armenian Genocide in 1915, something which is denied by Turkey and Azerbaijan. Time will tell if the lyrics will be found to be too political for EBU.
In 2009 Georgia was forced to withdraw from the Eurovision Song Contest as EBU demanded a change of lyrics, which was denied. The song We Don't Wanna Put In by Stephana & 3G was found to be too political to take part in the contest. 
We don't yet know the lyrics to this year's Armenian entry Don't Deny, but the story behind the group Genealogy will certainly undergo scrutiny from EBU once it is submitted to the Eurovision Song Contest as it could be another case of lyrics which won't be accepted.
Genealogy is a group of people with Armenian origin, but now spread all over the world due to what is known as the Armenian Genocide in 1915 carried out by the Ottoman's, nowadays Turkey. The Eurovision project will bring these and other families of victims together under the message of Peace, Unity and Tolerance. A nice idea which sure will get a lot of sympathy. The problem is just that not everyone agrees with this story. Turkey and Azerbaijan have a strong opinion about this and doesn't recognise the events as genocide. 
This has of course already let to many discussions online, and it probably won't stop anytime soon. It is not yet known when the song and its lyrics will be released, but we can be quite sure that EBU will look a little bit closer to determine whether or not it is too political to take part in the 2015 edition of the Eurovision Song Contest.
Azerbaijan is set to take part in the Eurovision Song Contest this year, while TRT recently explained that they were too late to take part this year, but that they will return to the contest next year. EBU hasn't yet confirmed this. From the allocation draw we know that Armenia will compete in the first semi-final and Azerbaijan in the second one so they won't meet before in the final should both countries qualify.
Below you can see a video advertising for the Armenian Eurovision entry Dont Deny: